MEDIA ADVISORY:
 Improved vacuum cleaner, smart infant car seat to be featured at Senior Design Day
by
David Salisbury
Apr. 16, 2013, 2:48 PM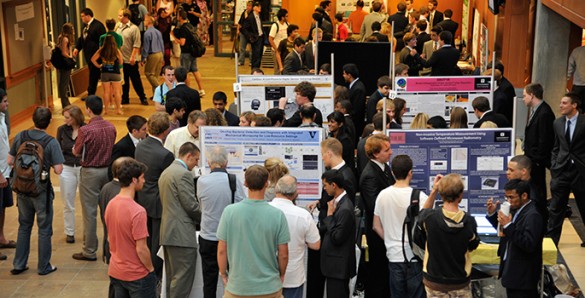 Projects that improve the air flow in the next generation vacuum cleaner and develop a "smart" car seat that alerts parents who have left their child in the car when the interior temperature approaches a hazardous level are among the 60 student projects being featured this year at the Vanderbilt School of Engineering's Senior Design Day.
The engineering majors will exhibit their solutions to real-life engineering challenges proposed by clients with real design needs. Corporate sponsors this year include the Oreck Corporation, Nissan North America, Northrop Grumman and the Trane Corporation. Other sponsors include NASA, Oak Ridge National Laboratory and a number of Vanderbilt University Medical Center departments.
Other projects include a hand hygiene monitor, a system that uses a mobile phone to detect neonatal jaundice and a master plan for revitalizing the water landscaping in Centennial Park.
WHAT: Senior Design Day 2013
WHEN: Friday, April 19, 3-5 p.m.
WHERE: Featheringill Hall, Vanderbilt campus
Visitor parking information »
Map of campus »
Directions to campus »