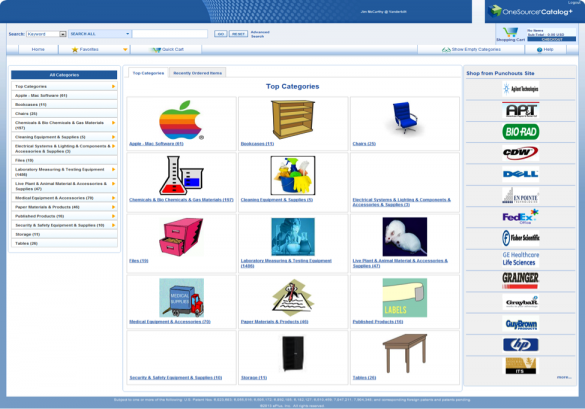 Procurement Services has launched a significant enhancement to the eProcurement electronic catalog (eCatalog). The upcoming changes will impact only those with the "eProcurement Creator" role.
The new eCatalog will be deployed on Monday, April 22. No special training or changes to existing eProcurement privileges will be required to use the tool. Prior to and during the week of April 22, additional information, including WebEx-based presentations and live Q&A sessions, will be made available to those wishing to receive additional information about using the new eCatalog.
The new and improved eCatalog features a more retail-like shopping experience than the current version. High-volume suppliers like Guy Brown (office supplies) and Fisher Scientific (general lab supplies) are now displayed in the right column with their company logos as the link to their custom external websites. Other products are offered in the hosted eCatalog and are available either through the "All Categories" list or the "Top Categories" displayed in the center of the screen.
The improved search feature lets you search by keyword, supplier or manufacturer within each category. The Advanced Search tool allows you to add other parameters to your search.
Contact: Dean L. Johnson, (615) 875-8820
dean.johnson@vanderbilt.edu