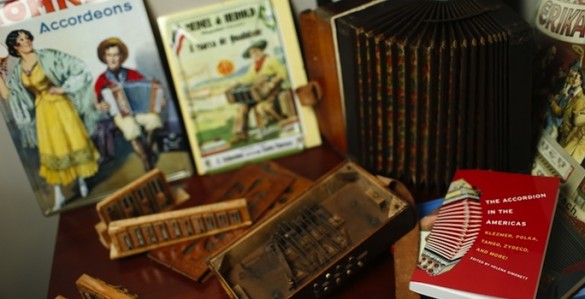 It says a lot that the second chapter of a new scholarly book about the accordion devotes an entire chapter to a sampling of jokes about the instrument. An example:
Q. What do you call an accordionist with a beeper?
A. An optimist.
You get the idea. But Helena Simonett, associate director of the Center for Latin American Studies and adjunct assistant professor at the Blair School of Music, both at Vanderbilt University, believes that the saga of the "the little man's piano" can tell us something aboutAmerica, especially in terms of class.
"People either love or hate the accordion," Simonett said. "There's very little in-between, and that's because it's associated with the working class. [rquote]It's music that was played in taverns and brothels."[/rquote]
Simonett traces the history of the instrument from its invention during the Industrial Revolution in the first chapter of the book The Accordion in the America: Klezmer, Polka, Tango, Zydeco and More! She also wrote the introduction and edited the other chapters.
In the United States, accordions are traditionally linked with "white immigrants, polka music and this kind of low-class image," Simonett said.
Some of the reasons the accordion was popular in the 19th century explain the upturned noses from the upper crust. It was mass-produced and therefore a cheap instrument to obtain, it was rather loud and could play bass, chords and melody all at once, meaning it could function as a one-man band.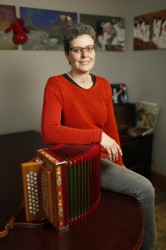 "You could entertain a whole crowd of dancers with an accordion," Simonett said. "Poor people now had access to a way to make their own music. Back then, guitars were not loud and sturdy enough to play polkas and marches and waltzes for a crowd."
Accordions have continued to thrive in various regional ethnic music that are unconcerned with validation from critics or mass audiences. Cajun, zydeco, merengue and tango all thrive in regions of the Americas. But despite occasional flare-ups in popularity (Lawrence Welk played one and rock musicians occasionally use them), the accordion is not taught in conservatories and is unlikely ever to be used in orchestras, Simonett said.
"No, not the noisy accordion," she said. "It still has that working class stigma and it still makes that sound. It's not considered a classical sound.
"There are very few orchestral pieces that have integrated the accordion. I don't see it finding its way into the regular orchestra."