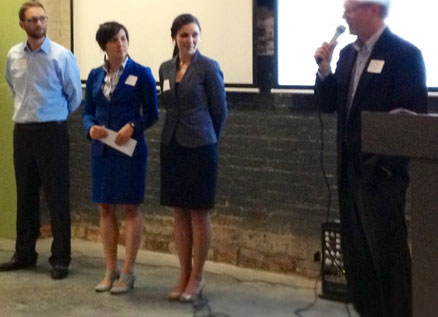 Alyssa Van Camp, a graduate student at Vanderbilt Peabody College of education and human development, won first prize in the Business for Good case competition at the gathering of the Nashville chapter of the Social Enterprise Alliance.
Finalists pitched social enterprise ideas to a panel of judges for the chance to win $30,000 in cash awards and in-kind prizes. Van Camp lobbied for the creation of PERTS South, a collaboration between Nashville non-profit Wheelhouse Project, and the Stanford Psychology Department's PERTS research lab, which provides online evidence-based educational interventions to improve students' motivation and mindset about school.
"Currently, we're exploring the commercial feasibility of the PERTS intervention in schools here in Nashville," Van Camp said. "Our goal is to bring this evidence-based solution to struggling students in our community so that it can have a sustainable, scalable impact on students outside of the research context."
As the first prize winner, PERTS South received a $5,000 grant from the Social Enterprise Alliance, an all-inclusive branding package from Proof Branding, five hours of legal support from Baker Donelson law firm and a three-month seat in in the Nashville Entrepreneur Center's Accelerator Program, where the team will receive expert advice on their business model and start-up support. Headed by Van Camp, the organization will collaborate with Dave Paunesku, the founder and director of the PERTS lab at Stanford.
Van Camp, a native of Columbus, Ohio, is a second year masters student in the International Education Policy and Management Program at Peabody. The idea was formed while Van Camp was taking a strategy and analytics course with Corbette Doyle, lecturer in Organizational Leadership at Peabody.
"Since then, she has provided continual support and encouragement to our team through the many different stages of our project," Van Camp said.