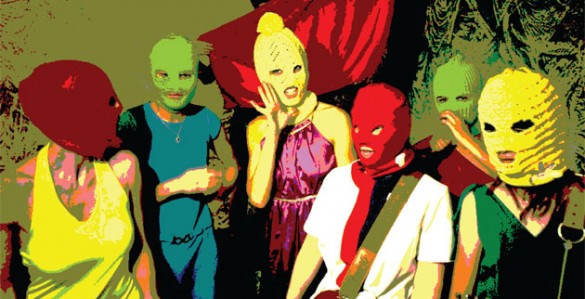 Russian protest group Pussy Riot, whose videos have been banned in their home country while two of their members are imprisoned, will be the topic of a symposium that includes a film screening, coffee house evening and roundtable discussion at Vanderbilt University.
Two members of Pussy Riot are serving two-year prison sentences in Russia after the group staged a performance and video shoot at the Moscow Cathedral of Christ the Savior on Feb. 21, 2012 – presidential election day in Russia – as a protest against President Vladimir Putin. The performance was turned into a music video titled "Punk Prayer – Mother of God, Chase Putin Away."
All events will take place April 1-3 at Vanderbilt, culminating in a panel discussion at 4:10 p.m. April 3 on "Putin, Pussy Riot and the Art of Resistance."
All events are free and open to the public.
Participating in the panel discussion in Flynn Auditorium at Vanderbilt Law School will be:
The moderator will be Joy H. Calico, associate professor of musicology and director of The Max Kade Center for European and German Studies at Vanderbilt.
The coffee house evening will be from 4 to 6 p.m. April 2 in Furman Hall, Room 001. Protest songs from a variety of cultures will be performed, and Spektor will discuss the place of Pussy Riot in the greater Voina movement in Russia.
At 7 p.m. April 1, the film Putin's Kiss will be screened in Buttrick Hall, Room 101. The Russian/Danish co-production, directed by Lise Birk Pedersen, is about Russian youth activist Masha Drokova and her experiences with the youth organization Nashi.