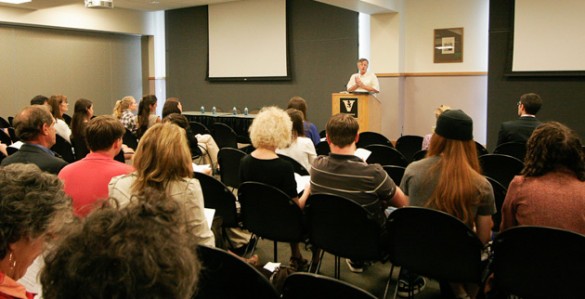 Vanderbilt will host its fifth annual Undergraduate Writing Symposium from 3 to 7 p.m. Sunday, March 24, at The Commons Center. The symposium is a forum for excellence in undergraduate writing at Vanderbilt of all kinds.
In addition to essays, the event will feature the diversity of writing projects produced by students in each of Vanderbilt's four undergraduate schools. Karen Campbell, senior associate dean for undergraduate academic affairs in the College of Arts and Science, and Frank Wcislo, dean of The Martha Rivers Ingram Commons, will share remarks, and a reception will follow the panel presentations.
The Vanderbilt Story Booth also will be available during the symposium to collect stories about writing experiences.
Participating writers include: Luis Calderon, Christopher Colletta, Laura Davia, Liz DeAngelo, Kyle Deland, Darshi Edirisooriya, Shelby Flowers, Christina Hansen, Ariel Helms, Mallory Hope, Stephanie Hoskins, Pooja Jagadish, Madeleine Lewis Jones, Haley Kahn, Maysa Kaskas, Gregory Kyle, Will McCollum, Nick Mecikalski, Rachel Menscher, Anna Reiff, Alexandra Rigl, Kristin Rose, Marco Salgado, Brian Rizzo Scales, Caroline Sessoms, Jillian Simon, Jennifer Stanley, Jack Suiter, Jeffrey Ray Swaney, and Mara Truslow.
Contact: Amanda Middagh, (615) 343-2225
amanda.middagh@vanderbilt.edu