The Rev. Monica A. Coleman, scholar and inspirational speaker with a strong commitment to connecting faith and social justice, will deliver the 2013 Antoinette Brown Lecture March 21 at Vanderbilt University Divinity School.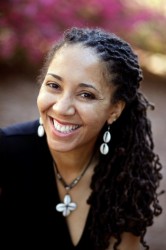 Coleman's talk, which will be at 7 p.m. in Benton Chapel, is titled "Iyanla Vanzant, Black Women's Spirituality and the Oprah Effect: Straddling and Merging Religious Difference."
"Multiple religious belonging remains a significant controversy in the areas of philosophy of religion and theories of religious pluralism," Coleman said. "I believe that this field can learn a lot from conversations with African American studies and black religiosity. An examination of one aspect of popular culture can illuminate some of these lessons."
Coleman is an associate professor of constructive theology and African American religions at the Claremont School of Theology and co-director of the Center for Process Studies. She is also an ordained elder in the African Methodist Episcopal Church.
Coleman, who earned a master of divinity at Vanderbilt, wrote Not Alone: Reflections on Faith and Depression (Inner Prizes, 2012). Other books include Making a Way Out of No Way: A Womanist Theology (Fortress Press, 2008) and The Dinah Project: a Handbook for Congregational Response to Sexual Violence (Pilgrim Press, 2004).
She is co-editor of Creating Women's Theology: a Movement Engaging Process Thought (Pickwick, 2011) and editor of the forthcoming anthology, Ain't I a Womanist Too?: Third Wave Womanist Religious Thought (Fortress 2013).
Coleman is a research fellow with the New Media Project at Union Theological Seminary, a Lilly Endowment-funded project that helps religious leaders become more theologically savvy about technology.
Coleman has a strong presence in social media with her Beautiful Mind Blog on the intersection of faith and depression. She is also a guest blogger for Patheos: Hosting the Conversation on Faith.
The Antoinette Brown Lecture, made possible by a gift from Sylvia Sanders Kelley of Atlanta, Ga., is named in memory of the first woman ordained to the Christian ministry in the United States. The lecture, which began in 1974, is intended to "bring to the school distinguished women theologians to speak on concerns for women in ministry."
Coleman's talk is free and open to the public. Video of the talk will be available later. For more information, contact Sha'Tika Brown at 615-936-8453 or email: shatika.brown@vanderbilt.edu.