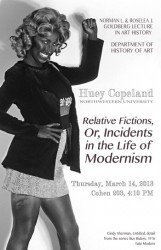 A Northwestern University professor who studies the articulation of blackness in the American visual arts will speak March 14 at Vanderbilt University.
Huey Copeland will deliver the spring 2013 Norman L. and Roselea J. Goldberg Lecture in Art History at 4:10 p.m. in 203 Cohen Hall. His talk is titled "Relative Fictions, or, Incidents in the Life of Modernism."
Copeland is an associate professor of art with affiliations in the Department of African American and African Diaspora Studies and the Program in Gender and Sexuality Studies at Northwestern. He received his doctorate in history of art at the University of California, Berkeley, in 2006.
The lecture is drawn from Copeland's book project In the Arms of the Negress, which explores the constitutive role of black femininity in Western art from the 19th century to the present. Much of his work looks at modern and contemporary art with an emphasis on the intersections of race, gender and sexuality in Western aesthetic practice.
He is a regular contributor to Artforum along with numerous edited volumes and international exhibition catalogues, including the award-winning Modern Women: Women Artists at the Museum of Modern Art.
Alongside his work as a teacher, critic and scholar, Copeland has co-curated exhibitions such as "Interstellar Low Ways at the Hyde Park Art Center" and co-edited journal volumes such as "New World Slavery and the Matter of the Visual."
Sponsored by the Department of History of Art, the lecture is free and open to the public. Limited parking will be available in lot 95 adjacent to Cohen Hall, 1220 21st Ave. S. For more information, contact Anne Hill at 615-322-2831.