Media Inquiries
Latest Stories
Accessibility, inclusiveness and community made the difference for these students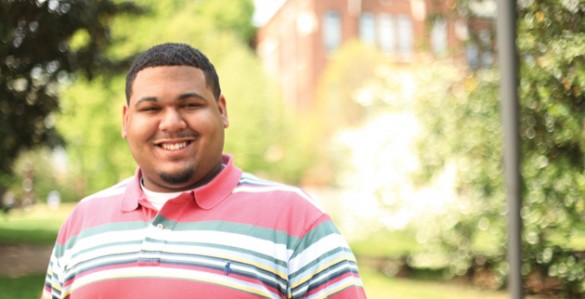 When Michael McGee first visited Vanderbilt as a high school senior, he was all but sold on attending the university, but a significant factor stood in his way. Like many students, paying for a four-year education at a private university was a major consideration for McGee, a Memphis native from a single-parent home.
"My mom told me I could go to college wherever I wanted and she would figure out a way to make it work," he said. "Fortunately, Vanderbilt offered me a great package."
McGee received the Rebecca and Spence Wilson Scholarship among other assistance through Opportunity Vanderbilt, the university's initiative for meeting 100 percent of a family's demonstrated financial need without loans. Started in 2009, Opportunity Vanderbilt recognizes that student talent and promise have no social or economic boundaries and supports the university's need-blind admissions process. The Opportunity Vanderbilt initiative depends on the generosity of alumni, parents and other supporters, who have contributed more than $145 million in gifts and pledges since October 2008 to support undergraduate scholarship endowment.
"I've been lucky to build a personal relationship with the Wilson family," McGee, now a senior, said. "I've told them just how important their scholarship is to me—that I wouldn't have had all of the fantastic experiences I've had at Vanderbilt without it." Those experiences include leadership positions with the Black Student Alliance and Alpha Phi Alpha fraternity, serving as a campus tour guide for prospective students and their families, and participating in a study abroad trip to Paris last May that he terms "life-changing."
Perhaps McGee's most meaningful Vanderbilt experience has been working with middle school students at KIPP Academy, an East Nashville charter school. The Human and Organizational Development major completed an internship there last semester that had him counseling 55 ninth-graders each day and running an after-school tutoring program. Following graduation in May, he plans to join Teach For America and serve middle school students from low-income families in the Dallas area.
"I fully believe there's nowhere else that I could have gotten a better experience than at Vanderbilt," McGee said. "I had to be a Commodore."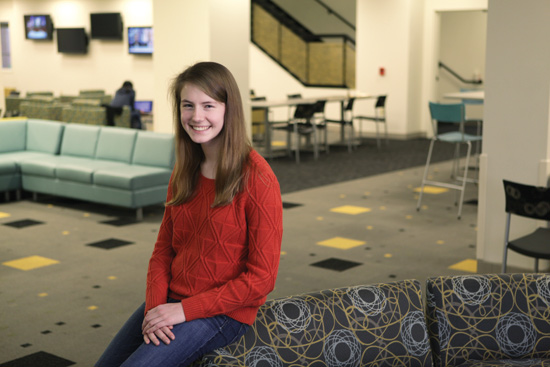 Other students agree. Julianne Connors, a sophomore from Palatine, Ill., was meticulous in her college search, considering dozens of universities before Vanderbilt won out. "I wanted to attend a great academic school," she said, "but also a university that had lots to offer me socially."
Connors has found exactly that. The biomedical engineering major joined Vanderbilt Student Volunteers for Science, teaches weekly flute lessons to low-income children at the W.O. Smith Nashville Community Music School, plays on the women's ultimate Frisbee team and enjoys exploring Nashville with her friends. Recent highlights include attending the CMA Awards and the Grammy nominations concert, both held downtown. She blogs about her experiences for the Vanderbilt Admissions website.
"I always thought of college as my opportunity to see a different part of the country, try new things and meet new people," Connors said. "Freshman year, there were four or five international students on my floor, so I made friends from Africa, Switzerland and all over the country." Another favorite experience was an Alternative Spring Break trip she took to South Dakota to work with children living on an American Indian reservation.
Both Connors and McGee say their first-year experiences at The Martha Rivers Ingram Commons provided a strong foundation for their college years. "[rquote]I think The Commons gave me the framework to better understand myself and the concept of community and how to apply that to a broader spectrum, such as different student organizations on campus or within the university as a whole," McGee said.[/rquote] He valued his experience so much that he returned to The Ingram Commons his sophomore year as a residential adviser. McGee has continued to mentor students in this capacity, finishing out his Vanderbilt career as head resident at Branscomb Quadrangle.
Connors is spending her sophomore year as a Creative Campus Residential Fellow, a living-learning experience at the Vanderbilt-Barnard residence hall. Fellows are selected from across academic disciplines to participate in a yearlong engagement with cultural programs and initiatives as well as plan and execute creatively themed service projects. From her room, she can see the renovations taking place at nearby Alumni Hall, where meeting spaces, lounges, an exercise room and café are being added to increase opportunities for student engagement. The project will be complete this summer. College Halls, a new living-learning community for upperclassmen being constructed at the former Kissam Quadrangle site, will open in time for her senior year.
Both say the opportunities to find community on campus coupled with an outstanding academic experience have given them the confidence to seek new opportunities at Vanderbilt and beyond. Connors said she wants to pursue undergraduate research as well as study abroad in South Africa before her time at Vanderbilt is over.
For McGee, life beyond Vanderbilt is drawing near. "[lquote]I've developed a lot of interpersonal, networking and leadership skills that I think are unique to the Vanderbilt experience," he said.[/lquote] "And my professors have really invested in me. I can honestly say that each cares about my success and has been there for whatever I need. I feel that's been absolutely fundamental to my development."
He's not alone. In a spring 2012 survey conducted by the Vanderbilt Institutional Research Group, 96.6 percent of undergraduates expressed their satisfaction with the teaching quality at Vanderbilt.
"I want to be someone who contributes to society after I leave here," McGee said. "I think Vanderbilt has given me a belief in myself to do that."
By the Numbers
Applications for the Class of 2016: 28,347
Increase over previous year: 14 percent
Increase over past six years: 119 percent
Applications for the Class of 2017: 30,950+ (a new all-time high)