In academics and on the playing field, Vanderbilt athletes are all in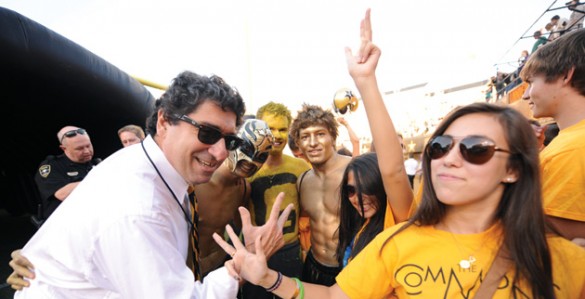 Southeastern Conference championships. Football bowl victories. A College World Series appearance. Dramatic enhancements to athletic facilities. With a growing list of accomplishments, Vanderbilt athletics have attracted national attention over the past five years.
In many ways, it's a "new Vanderbilt," as head football coach James Franklin, hired in December 2010, likes to say—a new normal that has many sports fans rethinking old stereotypes.
But in the most important ways, Vanderbilt remains steadfast. The past five years have maintained two bedrock principles of the university and its Department of Student Athletics: academics and fair play.
Commodore varsity teams have enjoyed unprecedented successes on the playing field and in the classroom. Vanderbilt's approximately 325 student-athletes concluded the 2011-12 academic year with a cumulative grade point average of 3.09. A new goal of 3.2 has been set. And Vanderbilt remains the only member of the SEC that has not been on probation for rules violations, a source of pride for all of Commodore Nation.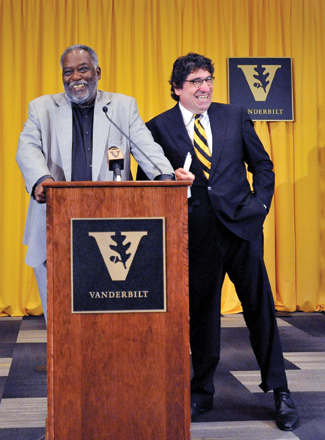 Student-athletes also have made time to complete more than 3,000 community service hours annually by mentoring youngsters, visiting the Monroe Carell Jr. Children's Hospital at Vanderbilt and serving others in the Nashville community.
In July 2012, Chancellor Nicholas S. Zeppos appointed David Williams II vice chancellor for athletics and university affairs and athletics director. Williams is building on his experience as a Vanderbilt Law School faculty member and on his previous roles as general counsel and university secretary to guide the Commodore ship into productive waters.
Williams has pushed Vanderbilt athletics into national leadership positions, including finding innovative ways to promote study abroad, an experience once thought unattainable for the student-athlete in a constant cycle of training and competition. When the program was originally unveiled for student-athletes, three applied. In recent years, the department's senior managers have reviewed a host of applicants, approving trips for as many as a dozen a year. Vanderbilt teams also are encouraged to travel internationally. In recent years, the baseball team has been to Japan and Hong Kong, and the men's and women's tennis teams visited South Africa.
"[lquote]Our goals mirror those of the university," Williams said. "We strive for excellence, we undertake leadership roles, and we insist that our student-athletes have a rewarding, well-rounded experience that wins both ways—in athletic competition and in the classroom."[/lquote] Zeppos also has encouraged the Department of Athletics to collect, analyze and apply data to track undergraduate academic metrics and to bolster Vanderbilt's federal graduation rate with the hopes of it rising even higher.
Athletics' higher profile has been a catalyst for alumni and administrators to collaborate on raising funds for a new multipurpose facility and addition to Vanderbilt's Student Recreation Center. Construction, which began in fall 2012, involves enhancing the existing rec center so that it can serve faculty, staff and students and building a new 120-yard-long indoor practice field surrounded by a 300-meter indoor track for use by student-athletes as well as the entire university community. The project is expected to be complete by summer 2014.
An already tangible product of alumni, administrative and fan support is the extraordinary success of Vanderbilt's varsity programs. In the past five years, Vanderbilt football teams have played in three bowl games, winning two. Previously, they had appeared in only three bowl games since 1890. The team ended the 2012 season ranked in the top 25 nationally and boasted the SEC's longest winning streak at seven. One goal still in progress is a 3.0 team GPA.
Winning extends to nearly every part of Vanderbilt's 16-sport program. The baseball team made its first appearance at the College World Series in 2011; the bowling team was national runner-up in 2011; the men's basketball team won the SEC Tournament in 2012 for the first time since 1951; the women's basketball team won the SEC Tournament in 2009 for the third time in four years; the women's cross country team won its first-ever SEC championship in 2011; and golfer Marina Alex won two SEC Player of the Year awards.
Vanderbilt student-athletes have been recognized individually as well. Tennis player and 2010 engineering graduate Catherine Newman won the Arthur Ashe Award for leadership and scholarship, and runner Amanda Scott earned a Gates Cambridge Scholarship in 2009 after graduating with a 3.992 grade point average, majoring in chemical engineering and chemistry with minors in engineering science and mathematics.
These days, Vanderbilt athletics is many things: the subject of our water-cooler talk and a new source of bragging rights. Its games are a common rallying point, and its playing fields are our communal space. Athletics is a source of pride and excitement for an already distinguished institution, and it remains a valuable contributor to the university's fabric.
Did you know?
In 2011, eight major college sports programs in the nation had a football team play in a bowl game and both basketball teams and its baseball team play in the NCAA Tournament. In 2012, six universities could make the claim. Only one university can claim this distinction both years: Vanderbilt.
Contact: Rod Williamson, (615) 322-4121
rodney.h.williamson@vanderbilt.edu