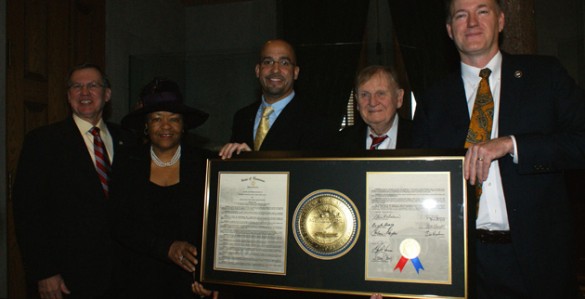 Vanderbilt's James Franklin was honored Feb. 13 by the Tennessee Senate as lawmakers recognized his accomplishments as the Commodores' head football coach.
The Senate's Davidson County delegation presented Franklin with a copy of Senate Joint Resolution 62, sponsored by Sen. Steven Dickerson, R-Nashville, and Sen. Douglas Henry, D-Nashville. The resolution praises Franklin for tying Vanderbilt's single-season record with nine wins, a record that has stood since 1915. It's also the most wins compiled by Vanderbilt since joining the Southeastern Conference in 1933.
"In just two seasons, James Franklin of Vanderbilt University has changed the culture of Vanderbilt Commodore Football by taking the program to new heights of success, resulting in huge wins on the field and unparalleled enthusiasm among the Commodore fan base," the resolution reads.
Franklin was named Vanderbilt's head coach in December 2010. He also coached back-to-back bowl games for the first time in school history and won four SEC games by 23 points or more. Franklin was one of six finalists for the prestigious Bear Bryant Coach of the Year Award and is the first African American head coach to lead Vanderbilt's football team.
The Commodores concluded the 2012 football season with a seven-game winning streak, which is the longest active streak in the SEC. Vanderbilt recently was recognized by the American Football Coaches Association as a leader in student-athlete graduation rates.
"Coach Franklin is a phenomenal coach," Dickerson said. "He has managed to reach unparalleled success and bring national acclaim to Vanderbilt and Nashville. It's a privilege to sponsor this resolution honoring his accomplishments."
"Along with other Vanderbilt alumni, I am very proud of Coach Franklin's record, a refreshing fountain in what many times was a dry desert," Henry added.