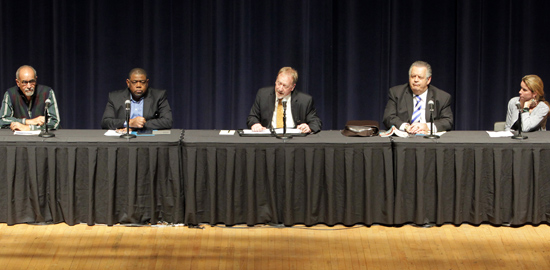 Vanderbilt Chaplain Mark Forrester moderated a lively panel discussion in War Memorial Auditorium Feb. 12 about the Emancipation Proclamation's meaning and legacy as the document went on view at the Tennessee State Museum nearby.
Richard Blackett, Andrew Jackson Professor of History at Vanderbilt, pointed out that movements such as the one launched by the Emancipation Proclamation "begin with a period of hope and then digress into periods of retreat"—in that movement's case, segregation and Jim Crow laws. He suggested that the current period is one of retreat.
Dennis Dickerson, James Lawson Professor of History at Vanderbilt, said it was important to make a distinction between what it meant in Lincoln's time to be anti-slavery, which Dickerson defined as those who were concerned about the impact of slavery on free enterprise, versus what it meant to be abolitionist, or those who were concerned about the impact of slavery on African Americans.
Richard Land, president of the Ethics and Religious Liberty Commission of the Southern Baptist Convention, called President Lincoln the country's greatest leader ever and discussed the impact in modern times of Martin Luther King Jr.'s protests, which he pointed out were nonviolent but forceful in terms of bringing about change.
The Rev. Becca Stevens, Episcopal affiliated chaplain at Vanderbilt and pastor of St. Augustine's Chapel, drew a comparison between slavery and modern day sex trafficking. "One of the hardest realities," she said, "is for anyone to even claim a vision of emancipation as possible when it's been thwarted for so long."
The panelists concluded by answering audience questions.
Vanderbilt's Office of Religious Life, Division of Public Affairs and office of Community, Neighborhood and Government Relations sponsored the event.