Event to coincide with historical document's debut at Tennessee State Museum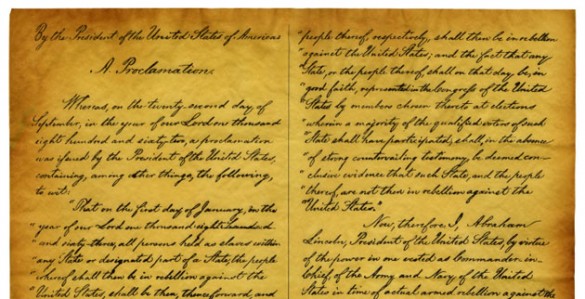 Vanderbilt Chaplain Mark Forrester will moderate a panel discussion about the Emancipation Proclamation's meaning and legacy on Tuesday, Feb. 12—the same day the historical document goes on view at the Tennessee State Museum.
The 3:30 p.m. discussion will be held at War Memorial Auditorium. Forrester will be joined by Richard Blackett, Andrew Jackson Professor of History at Vanderbilt; Dennis Dickerson, James Lawson Professor of History at Vanderbilt; Richard Land, president of the Ethics and Religious Liberty Commission of the Southern Baptist Convention; and the Rev. Becca Stevens, Episcopal affiliated chaplain at Vanderbilt and pastor of St. Augustine's Chapel.
The event and following reception are free and open to the public. They are sponsored by Vanderbilt's Office of Religious Life, Division of Public Affairs and office of Community, Neighborhood and Government Relations.
This year marks the Emancipation Proclamation's 150th anniversary. The document rarely leaves the National Archives in Washington, D.C., but will travel around the country as part of the multimedia exhibit "Discovering the Civil War," which opens Feb. 12—President Lincoln's birthday—and continues through September 2013.
The document will make its only stop in the Southeast in Nashville and will be on view here for 72 hours spread over seven days. The document will go on view to the public Tuesday, Feb. 12, and close Monday, Feb. 18. After that date, a facsimile of the Emancipation Proclamation will be on display.
For information on viewing hours, go here.