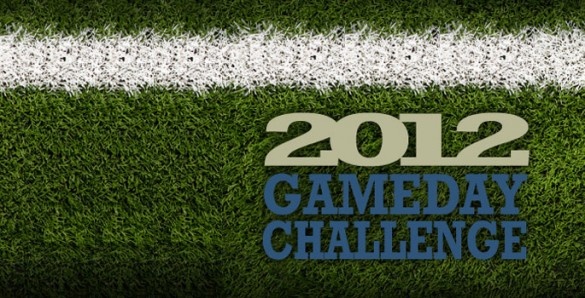 Vanderbilt scored big in the 2012 Game Day Recycling Challenge, sponsored by the U.S. Environmental Protection Agency.
The Game Day Challenge is a voluntary recycling competition among U.S. colleges and universities with the goal of reducing waste generated at college football games and increasing participation in and awareness of recycling.
For the 2012 challenge, Vanderbilt chose the home football game against Auburn University on Oct. 20 and generated a whopping 84 percent increase in recycling volume over its Game Day Challenge participation in 2011.
Vanderbilt also excelled in the waste minimization category, placing:
 First among Southeastern Conference schools;
 Eighth among the Division I Football Bowl Subdivision; and
 22nd out of 63 participating colleges and universities, including Division II and Division III schools.
Recycling is good for the planet
From September through November 2012, 79 schools and 5.4 million football fans diverted nearly 1.09 million pounds of waste from football games, which prevented more than 1,732 metric tons of carbon dioxide from being released.
This season, Vanderbilt Athletics partnered with Waste Management, Inc., the university's waste and recycling vendor, as well as Vanderbilt's Sustainability and Environmental Management Office and Students Promoting Environmental Awareness and Responsibility to make this year's competition a success.
Your participation makes a difference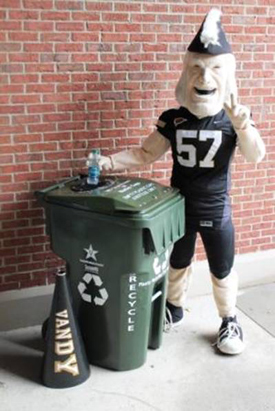 During the football season, recycling receptacles are available at gates and in tailgate areas at each Vanderbilt home game so that fans are able to easily dispose of plastics and aluminum cans from tailgate activities before entering Vanderbilt Stadium.
Additionally, recycling containers are prominently placed throughout the stadium to promote halftime and post-game recycling.
Learn more about collegiate recycling efforts
The 2012 Game Day Challenge is a partnership of the College and University Recycling Coalition, RecycleMania and Keep America Beautiful and is supported by the EPA's WasteWise program. Full results can be found on the Game Day Challenge website.
For more information about Vanderbilt's recycling and sustainability programs, visit the SustainVU website.
Contact: SustainVU, (615) 322-3745
recycle@vanderbilt.edu