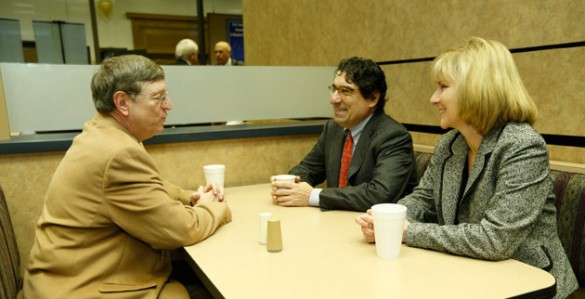 Vanderbilt's 12th annual Day on the Hill highlighted the university and medical center's contributions to all 95 counties in Tennessee and offered the opportunity for conversations between Vanderbilt officials and state lawmakers.
Chancellor Nicholas S. Zeppos and other Vanderbilt administrators, including Wright Pinson, deputy vice chancellor for health affairs and CEO of the Vanderbilt Health System, were on hand Jan. 30 for meetings with state leadership at the event hosted by Vanderbilt's Office of Community, Neighborhood and Government Relations.
Zeppos met with both chairs of the Education Committees, Sen. Dolores Gresham, R-Somerville, and Rep. Harry Brooks, R-Knoxville. He also visited with Lt. Gov. Ron Ramsey and House Speaker Beth Harwell, a Vanderbilt alumna, and was introduced on the Senate floor by Vanderbilt alumnus Sen. Douglas Henry Jr., D-Nashville.
"We are here to strengthen our existing relationships and build some new ones, and I think we accomplished that, but our work in those areas will continue," Vice Chancellor for Public Affairs Beth Fortune said. "Vanderbilt is committed to helping our state officials move Tennessee forward."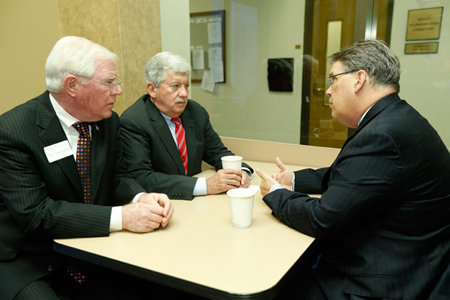 Ninety-five black-and-gold banners decorated the hallways at Legislative Plaza to illustrate the myriad ways the university and medical center impact each and every county in the state.
Topics of discussion included education, health care and economic development, according to David Mills, associate director of state policy and legislative affairs.
"We had a great turnout, and we talked about issues that matter. It was a successful event," Mills said.
The banners and a comprehensive booklet provided to each legislator by Christine Bradley, assistant vice chancellor for community, neighborhood and government relations, and other CNGR staff members delineated Vanderbilt's contribution to each of the 95 counties, with figures ranging from the number of alumni in each county to the amount of uncompensated care provided by the medical center.
Vanderbilt provided breakfast to state lawmakers and their staffs, while students from the Blair School of Music performed. The musicians included Rachael Schlosberg, a senior majoring in violin performance; Jennifer Pittman, a senior majoring in cello performance; and Rebecca Boelzner, a senior majoring in viola performance.
Also on hand to greet lawmakers were University Chaplain Mark Forrester and Josephine Darwin, development director of Tennessee Poison Control.