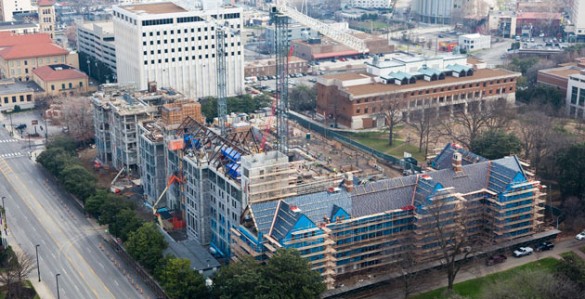 Associate Provost for Undergraduate Education Cynthia Cyrus and Dean of Students Mark Bandas will co-chair a search committee to find the first faculty directors of Moore and Warren colleges, representing a critical step in developing the two college halls now under construction at the corner of 21st and West End avenues.
Interested candidates must be current full-time Vanderbilt faculty. They should email a letter of application and a brief C.V. to Susan Barge, associate provost for strategic initiatives, no later than Feb. 15, 2013.
"College Halls at Vanderbilt will enhance the campus learning environment for generations to come," Provost and Vice Chancellor for Academic Affairs Richard McCarty said. "I look forward to a successful search for its inaugural faculty leaders."
Members of the search committee are:
Cynthia Cyrus, co-chair
Associate provost for undergraduate education
Mark Bandas, co-chair
Dean of students
Audrey Bemis
Class of 2016
Amanda Crown
Class of 2015
Nick Hall
Class of 2013
Clive Mentzel
Director, Office of Active Citizenship and Service
Salman Mukhi
Class of 2014
Julia Peredo
Class of 2014
Traci Ray
Associate director of residential life
Ron Schrimpf
Orrin Henry Ingram Professor of Engineering
Tom Schwartz
Professor of history, political science and European studies
Additional information can be found on the College Halls website.
Contact: Susan Barge, (615) 322-8012
susan.barge@vanderbilt.edu