Media Inquiries
Latest Stories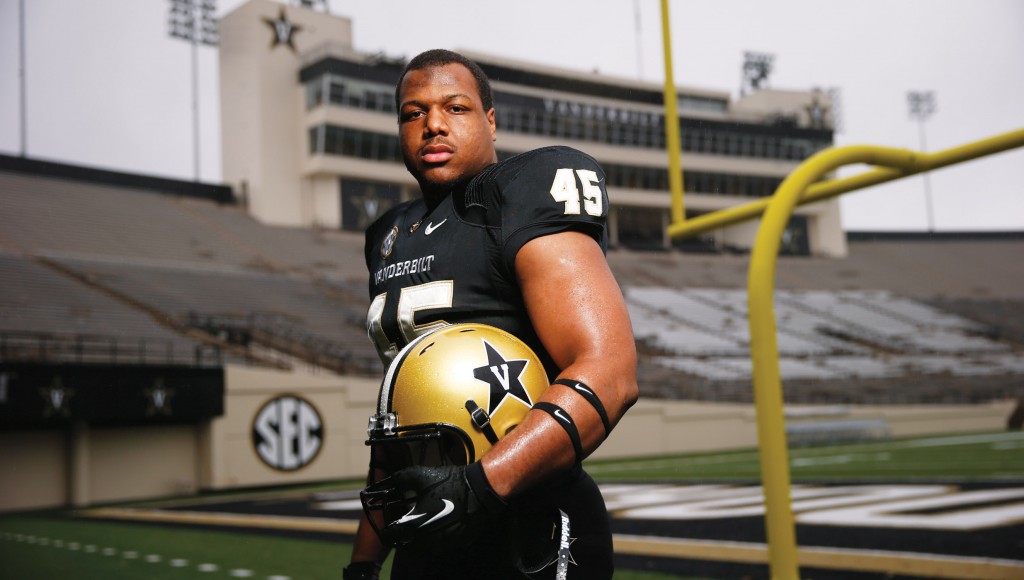 Four years ago Marc Panu walked on to Vanderbilt's football team. He sweated through the sweltering summer training camp. He spent grueling hours lifting weights. He studied game plans and watched endless film.
His reward was slow in coming. In 2009 he didn't play at all. By 2010, though, the coaches started to take notice and he made it off the bench in 11 games, playing on special teams and as a backup linebacker. During coach James Franklin's first year, Panu made the switch from linebacker to fullback and, by kickoff of the 2012 season, not only was he a starter, but he was awarded a full scholarship.
At a team meeting back in August, Panu was seated with the rest of his team watching a tape of the previous day's practice. Coach Franklin focused on Panu's plays and praised him to his teammates. He then announced that Panu's hard work had finally paid off and that he was now a scholarship athlete.
Panu's teammates jumped up, clapping and shouting out their appreciation of the coach's surprise gift. Panu sat stunned.
"I had no idea that it was coming—I just wanted to play football for one last year and enjoy my senior year," Panu says. "It was just a great experience to know that I was respected by the coaching staff. Over the years, a lot of my teammates had said they were surprised I didn't have a scholarship. They were really excited for me."
As thrilling as that day was, it's not Panu's most memorable gridiron moment.
"Playing against South Carolina in the season opener this year has to be the pinnacle of my college football experience," Panu says. "It was the first time I was starting on offense in an SEC game, and I'll always remember that."
Making the transition from defense to offense wasn't that difficult for Panu.
"Football is fundamentally all the same—just blocking and tackling," he says. "Playing linebacker was fun, but actually being in the game—not watching from the sidelines—is the most fun."
Panu works just as hard in the classroom as he does on the field of play. He is majoring in chemical engineering and is on track to earn his degree in May.
"I try to maximize my time in the classroom," he says. "I focus on actually learning the material in class so I don't have to spend as much time studying and reviewing."
Panu's plans for the future are still flexible at this point, but he may add a year to his studies and work toward a minor in managerial studies or engineering management.
With his playing days coming to a close, Panu knows he will miss the game. "Football really takes a lot out of you," he says. "Everyone who plays in college loves the game, but it's a huge commitment. I'm not sure what I'll miss most, but I will definitely miss playing this game."
---
Mark Panu's story has become an online sensation, also appearing on ABC, CBS, Fox and ESPN. See the video that went viral, with nearly 400,000 views on YouTube.
---