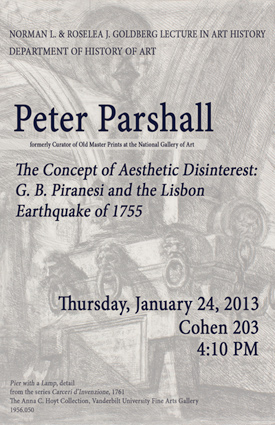 Peter Parshall, curator of old master prints at the National Gallery of Art from 1999 to 2010, will present the spring 2013 Norman L. and Roselea J. Goldberg Lecture in Art History Thursday, Jan. 24. Parshall's talk begins at 4:10 p.m. in Cohen Hall, Room 203.
Parshall, who has written and lectured widely on the art of Northern Europe and the Renaissance, will address "The Concept of Aesthetic Disinterest: G. B. Piranesi and the Lisbon Earthquake of 1755."  His work has a special emphasis on the history of prints, the early history and organization of collecting, and Renaissance art theory.
Parshall was formerly the Jane Neuberger Goodsell Professor of Art History and the Humanities at Reed College. He completed his doctoral studies in art history at the University of Chicago and his dissertation research as a fellow at the Warburg Institute in London.
He co-authored with David Landau The Renaissance Print: 1470-1550 (Yale University Press, 1994), recipient of the 1995 Mitchell Prize. While at the National Gallery of Art, he organized "The Unfinished Print," an exhibition with catalogue also shown at the Frick Collection, N.Y., and the Städel Institut in Frankfurt, Germany. Jointly with Rainer Schoch, he organized "Origins of European Printmaking: Fifteenth-Century Woodcuts and their Public," the first major international loan exhibition on this subject.
Parshall recently turned his attention to the 19th century and curated "The Darker Side of Light: Arts of Privacy, 1850-1900," an exhibition of prints, drawings and sculpture that traveled to three venues across the United States. In the summer of 2010, he retired from his post as curator in order to have more time for research and writing.
Sponsored by the Department of History of Art, the lecture is free and open to the public. Limited parking is available in the lot outside Cohen Hall, off 21st Avenue South on the Peabody campus.