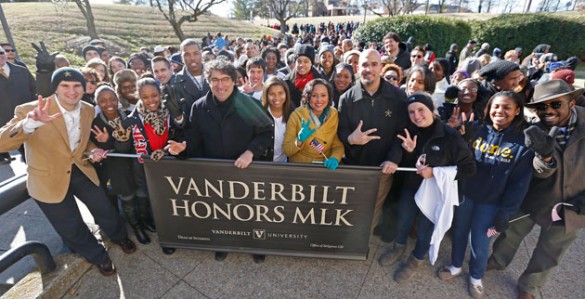 Chancellor Nicholas S. Zeppos and Coach James Franklin joined Vanderbilt students and others from the community at the annual Nashville Freedom March Jan. 21. Participants marched from the corner of 28th Avenue North and Jefferson Street to the Tennessee State University campus.
The march was among the events planned for Vanderbilt's annual commemoration of the life and legacy of Dr. Martin Luther King Jr. Other activities included a student Weekend of Service, lunchtime roundtable discussions on issues relevant to King's legacy, a bus tour of significant sites in the civil rights movement in Nashville, teach-ins conducted by Vanderbilt faculty and staff, and art exhibitions on campus.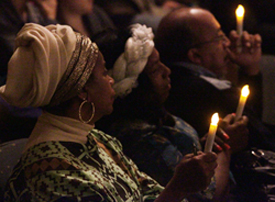 On the evening of Jan. 21, Vanderbilt student groups Voices of Praise, Victory A Cappella, Jeremiah Generation and the Blair Chamber Choir performed at Langford Auditorium prior to a keynote address by Vanderbilt alumna Michelle Alexander, author of The New Jim Crow: Mass Incarceration in the Age of Colorblindness. The keynote was followed by a candlelight vigil.
See reaction to Vanderbilt's MLK Day events via social media.