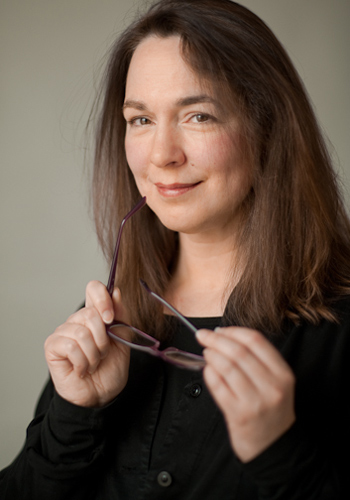 Lorrie Moore, a distinguished American fiction writer whose acclaimed short-story collections include Birds of America and Like Life, will teach at Vanderbilt University with an endowed chair starting fall 2013.
Moore will be the Gertrude Conaway Vanderbilt Professor of English, pending approval by the Vanderbilt Board of Trust.
"Lorrie is the essence of original expression and commentary. Her unique voice illuminates her poignant and brilliant writing, and she represents a terrific addition to our world-class English faculty," said Vanderbilt Chancellor Nicholas S. Zeppos. "She is the latest example of the university's strong commitment to investing in exceptional faculty who provide transformative learning opportunities for our students."
Moore, who is a member of the American Academy of Arts and Letters, spoke at Vanderbilt's Central Library in January 2012 as part of the Chancellor's Lecture Series. Her talk was titled "Creative Writing and the Customer Survey."
"We are thrilled to welcome Lorrie to Vanderbilt, with its storied history in creative writing, where she will have the opportunity to work with some of the nation's most promising young writers," said Carolyn Dever, dean of the College of Arts and Science and professor of English.
Moore's most recent novel, A Gate at the Stairs (Random House), was described in a New York Times book review as "…her most powerful book yet, a book that gives us an indelible portrait of a young woman coming of age in the Midwest in the year after 9/11 and her initiation into the adult world of loss and grief." Honors for the book include finalist for the PEN/Faulkner Award for Fiction, Orange Prize: Shortlist, and Midwest Booksellers Choice Award for Fiction. She also wrote the novels Anagrams and Who Will Run the Frog Hospital?
"Lorrie is an extraordinary writer," said Kate Daniels, professor of English and director of the MFA Program in Creative Writing at Vanderbilt. "Not only one of the most celebrated and widely respected of contemporary American authors, she is esteemed as well for her teaching and mentoring of young writers. Her presence among us will be a great addition to the Nashville literary community and a boon for our growing master of fine arts program in creative writing. We look forward with great happiness to having her join us."
In 1985 Moore's career took off with the publication of Self-Help, a collection of short stories that was also her master's thesis at Cornell University. Earlier, she had graduated summa cum laude from St. Lawrence University.
"[rquote]Lorrie's the most influential short story writer working in America, and has been been for the last 20 years,"[/rquote] said Tony Earley, the Samuel Milton Fleming Professor of English at Vanderbilt. "Ordinarily I would say that our MFA students have no idea how lucky they are, but they know exactly how lucky they are. They actually shouted with joy when they heard. I did, too, but first I made sure nobody could hear me."
Moore is currently the Delmore Schwartz Professor in the Humanities at the University of Wisconsin-Madison. Her many fellowships have included those awarded by the Guggenheim Foundation, National Endowment for the Arts, the Rockefeller Foundation and the Lannan Foundation.
Moore has written for The New York Review of Books, The New York Times, The New Yorker, The Atlantic Monthly and elsewhere. Several of Moore's works have been published in more than a dozen languages. Other previous honors for her are the Rea Award for the Short Story, the PEN/Malamud Award for excellence in the art of the short story and The Irish Times International Fiction Prize.