Media Inquiries
Latest Stories
BY ROB HAMMOND, BA'71
When I was in sixth grade, John F. Kennedy became one of my boyhood heroes. During his 1960 campaign he came to my hometown of LaGrange, Ga., after giving a speech at FDR's Little White House in Warm Springs. The motorcade came through LaGrange on its way to the airport.
Students, faculty and staff of Harwell Avenue Elementary School walked a couple of blocks to Vernon Road and waited on the sidewalk for the appearance of the Democratic presidential nominee. My uncle, William P. Trotter, BA'41, was state director of public safety and led the motorcade. JFK sat on the back of a yellow convertible with white interior. He wore a blue suit and had a deep tan. It seemed he acknowledged each teacher with a wave and a smile. From that day forward I had a special interest in Kennedy and followed his campaign closely. Our class watched his inaugural address in black and white in the school library.
As a freshman at Vanderbilt during 1967–68, I would sometimes run on the cinder track around Dudley Field. On the wall next to the track on the east side of the stadium was a plaque commemorating President Kennedy's May 18, 1963, speech at Vanderbilt. A quote from the speech—"Liberty without learning is always in peril, and learning without liberty is always in vain"—is on the plaque. That same quote was on The Vanderbilt Hustler masthead when I was an undergraduate.
I did not think about the plaque or JFK's speech for almost 20 years after I graduated. In the fall of 1990, I took my son Jordan to Fan Day at Vanderbilt Stadium. Mainly we wanted to see Vandy punter David Lawrence, whom I had taught, and Coach Greg Mantooth, with whom I had worked a couple of summers at Camp Laney, the Alabama boys' camp where I have been director since 1974.
It did not take long for me to start smiling. We knew we were viewing photographs not many people had seen.
After visiting with David and Greg, we walked across the field to see the plaque. It was not there, and I was curious to learn what had happened to it. I also wanted to learn more about Kennedy's Vanderbilt visit. I ordered an audiocassette of his speech from the John F. Kennedy Library & Museum, and I wrote Vanderbilt Chancellor Joe B. Wyatt to inquire about the plaque, which I subsequently learned had been relocated to the stadium's south concourse.
As an outgrowth of my interest, I wrote an article for the Spring 1993 issue of Vanderbilt Magazine, "JFK at Vanderbilt," which detailed Kennedy's Founder's Day speech 30 years earlier. My research for that article included spending a day with Chancellor Emeritus Alexander Heard and Robert McGaw, director of information and publications in 1963. McGaw had been in charge of planning and coordinating Vanderbilt's presidential visit. We talked about the day and the intense preparations for it. Then McGaw took me to Special Collections at the library, a historian's treasure trove. All the correspondence between Vanderbilt and the White House was there. Newspaper and magazine articles concerning the visit were saved. Boxes contained a seating chart of the speaker's platform, a program, parking passes, press credentials, a blueprint for the platform, and a copy of the speech signed by President Kennedy.
As the 50th anniversary of the speech drew near, I grew curious to learn if anything new could be added to the story, and contacted the JFK Library. I made an appointment to view any White House photos taken May 18, 1963. We scheduled the appointment to coincide with a JFK Library Forum on the 50th anniversary of the Kennedy–Nixon debates.
When my wife, San, and I arrived at the JFK Library, the staff had already pulled the May 18, 1963, photo file. It did not take long for me to start smiling. We knew we were viewing photographs not many people had seen. Many were taken by White House photographer Cecil Stoughton, who took many of President and Mrs. Kennedy's favorite family photos. Also there, as I had hoped, were photos of the Vanderbilt visit, including some never published until now.
At the time of his Vanderbilt speech, President Kennedy was dealing with civil rights struggles at home and Cold War crises abroad. The Cuban missile crisis and rioting at Ole Miss had taken place only seven months before. In May 1963 the eyes of the world were on Birmingham, Ala. Photos of black demonstrators being attacked by police dogs and knocked to the ground by fire hoses were on television and in newspapers and magazines. The president came to Vanderbilt and addressed the situation in his speech.
After his speech the president flew by helicopter from Nashville to Muscle Shoals, Ala., where he gave an address to mark the 30th anniversary of the signing of the bill creating the Tennessee Valley Authority. Because of the situation in Birmingham, a planned motorcade through the Alabama Tri-Cities did not take place. His speeches were given at federal facilities, and he traveled by helicopter.
Alabama Gov. George Wallace, who previously had called Kennedy a military dictator for ordering 3,000 federal troops on standby in Birmingham, met the president at the TVA facility in Muscle Shoals. After the speech Wallace flew on the helicopter with Kennedy to Redstone Arsenal in Huntsville, where the president made a brief speech. During the flight they discussed Birmingham. A memo by presidential press secretary Pierre Salinger detailing their conversation is among the items I viewed at the JFK Library.
President Kennedy concluded his Founder's Day address at Vanderbilt by saying, "Ninety years from now, I have no doubt that Vanderbilt University will still be fulfilling this mission. It will still uphold learning, encourage public service, and teach respect for the law. It will neither turn its back on truth and wisdom nor turn its face from newborn challenge. It will still pass on to the youth of our land the full meaning of their rights and responsibilities. And it will still be teaching the truth—the truth that makes us free, and will keep us free."
For 50 years the university has held true to his vision.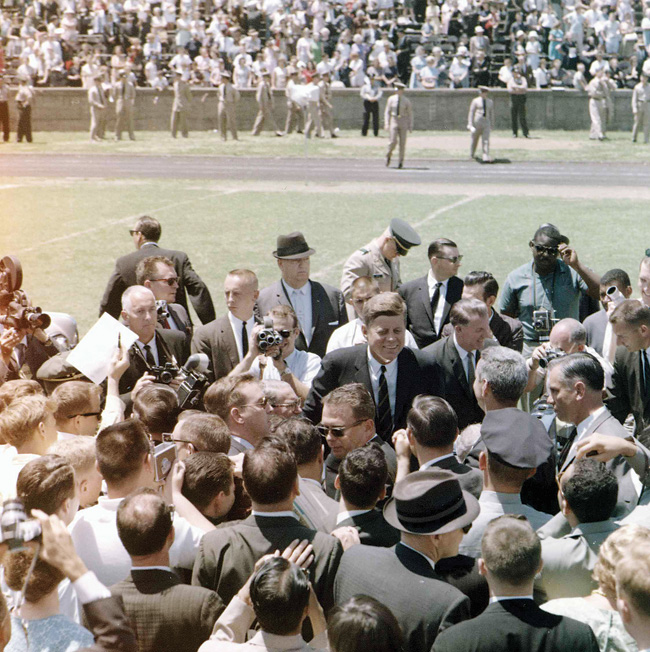 ---
Bonus Content