Media Inquiries
Latest Stories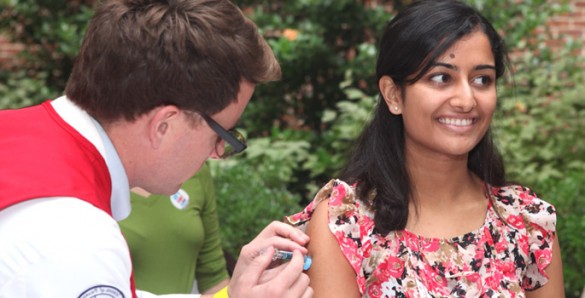 The flu is back and hitting the nation hard. Keep yourself and your family informed about influenza with these flu tools, compiled by Vanderbilt Health and Wellness.
If you are having flu-like symptoms, use the Occupational Health Flu Tool to get advice on work and treatment. See the Reporter article about Vanderbilt's Flu Tool here. People should go to their primary care provider, if at all possible, if they have the flu. Here is a link to some walk-in clinics at Vanderbilt.
Managers can keep work groups as healthy as possible and know what to do when the flu hits with these Manager's Flu Facts.
Find out how widespread flu is in your area with the CDC's Weekly U.S. Map: Influenza Summary Update, which is updated every two weeks.
The Centers for Disease Control and Prevention recommends that, along with getting your annual flu shot, the most important thing a person can do to avoid the flu is good hand hygiene. Washing your hands frequently and for the appropriate amount of time can eliminate numerous viruses that are easily picked up in your environment. For more information on hand hygiene, listen to the Occupational Health Wellcast "Hand Hygiene: Good For You and Your Patient."
Flu shots are still available at Occupational Health without an appointment. View the Occupational Health Influenza Vaccine Program webpage.