A Measure of Immortality Is the Only Gift I Can Still Give to Roy
By Blake Hall, BA'04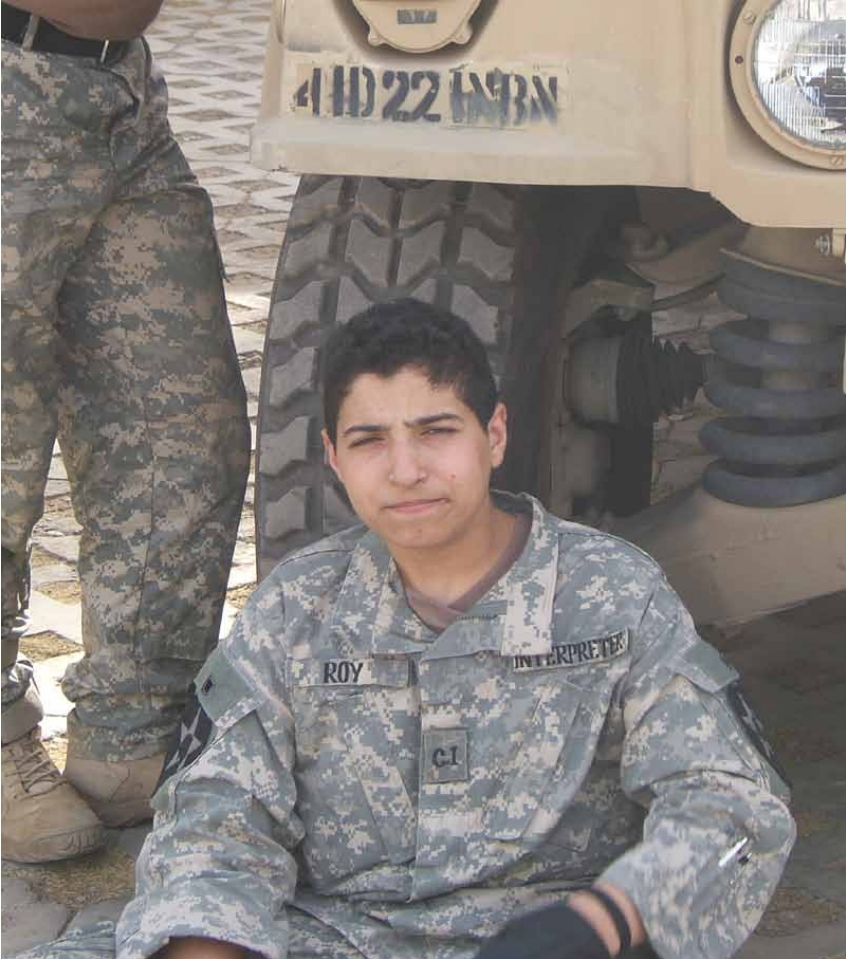 From July 2006 to September 2007, I led an elite platoon in Iraq that hunted high-level insurgent leaders. Sectarian violence ravaged the country during our 15-month tour.
With the help of the American invasion, Shi'a Arabs, long repressed in Iraq even though they represented a demographic majority, utilized their numerical advantage and the support of a Shi'a majority government to steadily purge Baghdad of Sunni households through death squads. Meanwhile, Sunni jihadists, representing about 20 percent of Iraq's population, adopted vehicle bombs targeting crowded Shi'a marketplaces as their preferred ethnic cleansing tactic, a desperate measure that inflicted terrible suffering.
Iraqi youths were disproportionately affected by violence. Teenagers are impressionable and form their identities through membership in groups, so radical militias on both sides attempted to lure or coerce teenagers into their ranks.
That's how I came to meet Roy.
I first saw him after leading a nighttime raid that netted an al-Qaeda suicide attack coordinator. Stripping off my body armor in the predawn light back on our base, I glanced over at my vehicles and saw what looked like a little kid in camouflage standing with my men.
I turned to Sgt. Sanford, one of my scout team leaders, and said, "Hey, who let the 12-year-old out with us?"
"That's Roy, the new terp, sir."
"Oh, yeah? Does his mom know it's past his bedtime?"
Sanford laughed.
Roy was lighting a cigarette when I walked up and introduced myself. As soon as he realized he was talking to the platoon leader, he threw the cigarette onto the ground and stomped it out with his tan combat boots. With that little gesture, Roy showed me he had discipline and cared about making a good impression. We'll keep him, I thought.
Roy looked like he was 15 at most. He looked like a water boy for a varsity sports team. But without him, my platoon was culturally blind and deaf.
Roy's head came up to my chest, and as we talked I found my attention shifting to the baby fat that rounded out his cheeks. I thought about asking him his age, but didn't want to ask a question that might offend him during our first meeting. So I asked why he had become an interpreter.
"Is it OK if I smoke, sir?" he asked.
I waved him on. He lit a fresh cigarette.
"I went to school here in Baghdad. One day the Qaeda came to my school. They say," Roy wagged his finger, "'You are not students anymore! Put away your books. Now we show you the path of jihad! My two best friends say to them, 'We are just students trying to learn. We don't want to do the jihad.'"
Roy paused and puffed on his cigarette. Curious, I prompted him, "And then?"
Roy gave me a wan smile. "Then, they gather the school in one place, they kneel them down, and they cut their heads with the knife."
"They beheaded your two best friends, Roy?" I said like an idiot.
Roy puffed out some more smoke. "Yes, sir. I walk to the base the next day and give them my name to work for you. I hate the Qaeda."
I believed him. His eyes had a faraway stare that I recognized all too well.
Roy's courage and youth endeared him to me and my men. During the next nine months, Roy translated Baghdad for me. He made meaning of the Arabic calligraphy. He told me when graffiti on the walls indicated the neighborhood was hostile to Americans. He let me know when the mosque wasn't broadcasting prayers but rather a call to attack.
Roy had curly brown hair that he kept very short on the sides to imitate my soldiers. His chubby hips were accentuated when he walked because he was a bit bowlegged. He had cheeks so smooth I could tell he had never shaved.
To the uninitiated, a group of Americans calling an Iraqi "Roy" might seem the height of provincialism, but we never could have used his real name. If an Iraqi in Baghdad recognized Roy or heard his name, then Roy and his family would likely be killed. For his protection, the contracting company that hired interpreters assigned him a code name: Roy.
"Roy" seemed to fit him. It was a name I associated with young boys pretending to be cowboys. And Roy looked like he was 15 at most. When he stood next to the lean scouts I led, Roy looked like a water boy for a varsity sports team. But without him, my reconnaissance platoon was culturally blind and deaf.
As I write about our first encounter, I am overcome with emotion, for Roy was killed along with six other American soldiers in a house bomb a few months after my platoon left Iraq. Interpreters had to serve with American units for at least 12 months in order to obtain a visa, and Roy had only served with us nine months when it was time for my unit to come home. I felt awful about leaving him. He had spent his first day with the American unit that replaced us, and the last words he said to me were, "I'm scared."
Nearly two years passed before I was able to write about him. Once I started, the story seemed to write itself. He was so good and so brave for his age that I knew readers would love him like my men and I loved him.
A chance encounter with Tom Ricks, a Pulitzer Prize-winning journalist, coincided with my completion of Roy's essay. I asked Tom to read the article I had written. He did, and he passed it to David Remnick at The New Yorker and Carlos Lozada at The Washington Post.
On Aug. 29, 2010, The Washington Post published my essay, "Remembering Roy." Although I received more than 400 notes from readers, Vanderbilt Professor Thomas Schwartz wrote me the very first email to tell me how moved he was by Roy's story. I was particularly affected by the history professor's words, for I had been his student at Vanderbilt, and I was grateful for what I had learned in his classroom before deploying to Iraq.
My education at Vanderbilt enabled me to teach my men about Iraqi culture, the legacy of the Ottoman Empire, and the different factions vying for power throughout the country. Several of my men later told me that understanding Iraqi society more deeply helped them to humanize the Iraqis with whom they interacted. My education enabled me to write the most meaningful story of my life, and to give Roy a measure of immortality—the only gift I could still give him. I cannot think of a more powerful testament for a liberal arts education.
Roy's story is not over. I found his family through a senior military officer who read the article in the Post. In January 2011, I talked with Roy's mother for the first time. I was worried she would hate me because she had lost her son, but she wasn't angry with me. She told me that Roy had loved me and my men. She called me a good man.
Two law students at UC–Berkeley, Matthew Pelnar and Arusha Gordon, prepared a set of visa applications for Roy's family to come to America. Operating as part of the Iraqi Refugee Assistance Project, Matthew and Arusha have advanced the family's case during the past 18 months. We just learned in September that the final security checks have been completed so the family might arrive in America very soon. Unfortunately, the FBI controls the final decision and timing, and the process isn't transparent or fast. We have already waited a year and a half.
In the meantime, donations from readers like Professor Schwartz to a trust set up in Roy's name have paid the family's rent for the past two months. Financial support from my alma mater and from Americans I've never met has been overwhelming. The last gift I can give to Roy is a free life in America—a right he paid for with his life. I will not rest until my nation's debt to Roy's family and my own obligation are fulfilled.
I asked Roy once if he wanted to come to America. "Of course, sir," he answered. "America is a dream."
---