New Recreation Center and Multipurpose Facility Cast Wide Net
by
Chris Skinker
Jan. 11, 2013, 3:24 PM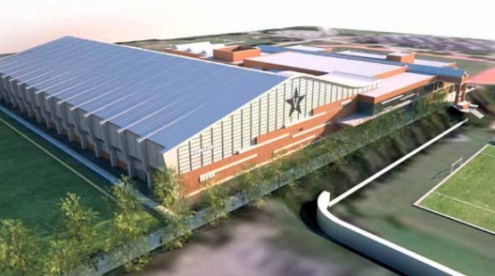 Vanderbilt broke ground in September on a new multipurpose field house, additions to the Student Recreation Center, and renovation of recreation fields. The project, which reimagines sports and fitness at the university, combines recreation facilities that serve students, faculty and staff. Funding for the $30 million-plus project comes from a combination of philanthropy and university investment.
The new multipurpose facility will include a 120-yard-long indoor practice field surrounded by a 300-meter indoor track. The practice field will be available for varsity teams as well as intramural and club sports teams. The track will be open for use by the university's athletic teams and students, faculty and staff.
Upgrades to the existing Student Recreation Center include expanded weight training, multipurpose spaces, and cardiovascular and fitness areas, as well as the addition of a four-lane bowling alley that will both support the university's varsity bowling team and provide a new recreational activity.
---