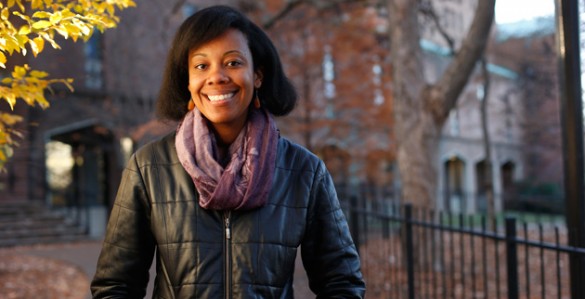 Jennifer Bailey never imagined herself living in Nashville, Tenn., but her passion for addressing issues of hunger and poverty brought her to Music City in 2009. She hasn't left yet.
Soon after graduating from Tufts University, she received a fellowship from the prestigious Emerson National Hunger Fellows Program, which gives participants experience fighting hunger and poverty through field placements in community-based organizations. The goal of the program is to bridge local efforts with national public policy.
"The Emerson program sends 20 fellows each year to communities across the United States, matching our skill sets with community needs," Bailey explained. "We have no say in where we're placed. I remember making a list of every major city in the United States, and never did I think that—as a girl from the South Side of Chicago—I would end up in Nashville."
Bailey's fellowship placed her with Food Security Partners of Middle Tennessee, which was based on the Vanderbilt campus before it merged with the 35-year-old Nashville organization Manna in December 2009 to become Community Food Advocates. The mission of Community Food Advocates is to end hunger and create a healthy, just and sustainable food system in Nashville.
Bailey gained valuable experience over the course of her yearlong fellowship, as well as a plan for the future.
"Through my work in the Nashville community, I engaged quite a bit with Vanderbilt students, particularly students from Vanderbilt Divinity School," she said. "[rquote]What struck me most was the way in which Vanderbilt Divinity students weren't just talking about the message of Christ, but living it out every day in their interactions and through the issues they were involved in, such as food access, advocating for the homeless, immigration policy and more."[/rquote]
Bailey, once convinced that her undergraduate political science degree eventually would take her to Washington, D.C., to do public policy work, began to consider divinity school for the first time.
"I think I'd always been discerning to the call of ministry. My experience was growing up in the African Methodist Episcopal Church," she said. "When it came time for me to apply to divinity schools, Vanderbilt was at the very top of my list, based in large part on my interaction with students here."
Now a second-year master's student at Vanderbilt Divinity School, Bailey has remained involved with Community Food Advocates. In May 2012, her part-time work with the group turned into a permanent position. As a food stamp outreach coordinator, she advises people about their eligibility for assistance and serves as a vital liaison to the state and local Departments of Human Services.
Bailey has found that this hands-on, "heart-level" work often tells a different story than the political rhetoric surrounding it. Increasingly, she said, those whose basic nutritional needs are not being met include the elderly, people with disabilities, and the newly poor—lifelong members of the middle class who are seeking assistance for the first time due to a bad economy.
"Food stamps and entitlement programs in general have been under fire, especially in our political discourse," she said. "But if you look at the statistics, the face of hunger in the United States is changing. It's our grandparents, our next-door neighbors and the people sitting next to us in the pew on Sunday morning."
Her work targets five populations most at risk: refugees and immigrants, seniors and people with disabilities, the "working poor" or underemployed, people transitioning from incarceration to the community, and people who are homeless. She also partners with community organizations, such as Second Harvest Food Bank and Loaves & Fishes, to deliver emergency food assistance when it's needed.
Bailey divides her time between pursuing her degree and as a member of Community Food Advocates' dedicated staff. Now, she wouldn't trade her time in Nashville for anything.
"I'm so happy to do this work in a place where church and faith are not just about what you do on Wednesday night and Sunday morning but something you live out every day," she said. "Vanderbilt Divinity School provides me with the intellectual and communal space to really connect my passions in a way that is true to what I believe the message of Christ to be."