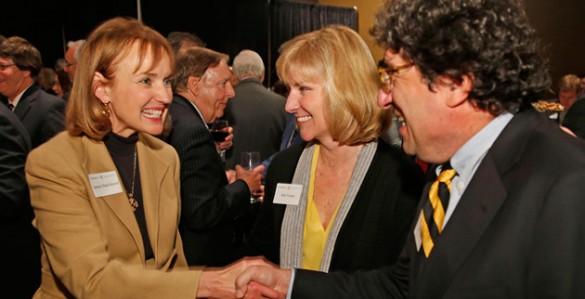 Chancellor Nicholas S. Zeppos officially welcomed the 108th Tennessee General Assembly, including 50 new lawmakers, at a special reception held at the Tennessee State Museum Jan. 9.
Zeppos thanked the legislators for their commitment to public service and urged them to think of Vanderbilt as their partner in solving issues and moving Tennessee forward.
More than 200 people were in attendance, including Lt. Gov. Ron Ramsey, House Speaker Beth Harwell and Nashville Mayor Karl Dean. The reception welcomed the legislators to a new session and celebrated Vanderbilt's positive impact in counties across the state through education, research, health care and a host of strategic partnerships.
Representatives of the university, including Vice Chancellor for Health Affairs and Dean of the School of Medicine Jeff Balser; Vice Chancellor for Athletics and General Counsel David Williams; Vice Chancellor for Public Affairs Beth Fortune; School of Nursing Dean Colleen Conway-Welch; School of Engineering Dean Philippe Fauchet; University Chaplain Mark Forrester; and Vanderbilt head football coach James Franklin, were on hand to greet guests.
After Zeppos addressed the lawmakers, Ramsey, Harwell and Dean spoke about Vanderbilt's positive impact in Nashville and throughout the state. The event was organized by Vanderbilt's Community Neighborhood and Government Relations office in the Division of Public Affairs.