Media Inquiries
Latest Stories
Media Advisory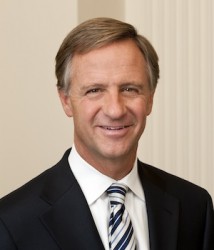 Gov. Bill Haslam, Sen. Lamar Alexander, Sen. Bill Frist, Chancellor Nicholas S. Zeppos and School of Engineering Dean Philippe Fauchet will headline a working meeting at Vanderbilt to discuss a recent report from the National Research Council of the National Academies titled Research Universities And The Future Of America: 10 Breakthrough Actions Vital To Our Nation's Prosperity And Security.
Commissioned by Congress, the report identifies ten ways to promote and protect the excellence of the nation's doctoral education and research vital to maintaining the United States' competitiveness and prosperity in the 21st century.
The meeting will open with remarks from Haslam and an overview of the report presented by Zeppos, Alexander, Frist, and report committee chair Chad Holliday.
Fauchet will moderate a discussion on the role of states in higher education and economic development, followed by a discussion moderated by David Millhorn, executive vice president of the University of Tennessee, about partnerships between higher education, industry, national laboratories and state government.
Discussion participants include science, technology and economic development officials from Tennessee, Georgia, North Carolina and Ohio, as well as leaders of the Oak Ridge National Laboratory and Provision Health Alliance. The meeting will wrap up with small group work sessions in the afternoon.
Attendance is by invitation only. Media are welcome for the morning overview and panel discussions, but must RSVP with Liz Entman at (615) 322-NEWS.
What: Research Universities and the Future of America working meeting (Download a summary of the report here.)
Where: Vanderbilt University Student Life Center
When: Wednesday, Jan. 16, 8 a.m. – 12:15 p.m.
Who: Gov. Bill Haslam, Sen. Lamar Alexander, Sen. Bill Frist, Chancellor Nicholas S. Zeppos, School of Engineering Dean Philippe Fauchet
[campusmap]