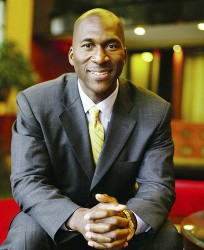 Matthew Wright, Vanderbilt University vice chancellor for investments, has announced his resignation, effective Jan. 31.
"Matthew led Vanderbilt's investment portfolio through an exceptionally challenging time," Chancellor Nicholas S. Zeppos said. "The recession of 2009 took a heavy toll on the endowments of many universities, but under Matthew's leadership, Vanderbilt fared better than many of our peers."
Since joining Vanderbilt in 2007, Wright has overseen the investment office, responsible for managing the university's long-term investment portfolio, which is currently $3.8 billion.  The portfolio consists of traditional and alternative investments, including real estate, hedge funds and private market investments.
"As I depart the university for a new business venture, I would like to thank the Vanderbilt community for their generosity and support," Wright said. "Although the past five years have proved challenging within financial markets, through the broadening of the long-term investment portfolio's global footprint, the future looks promising."
Brett Sweet, vice chancellor for finance and chief financial officer, will assume investment responsibilities on an interim basis and will begin immediately to work through the transition. A search committee will be named to identify Wright's successor.
Wright, 45, came to Vanderbilt after six years at Emory University where he was director of investments. Before that he helped manage quantitative investment portfolios for institutional accounts at Bank of America Corp. and pension assets for Xerox Corp.