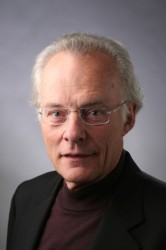 Former graduate students and colleagues of Douglas Knight from around the globe recently surprised the Vanderbilt University professor with a "festschrift," or book of original essays, on the occasion of his 40th year of teaching.
"Festschrift" is a German word that literally means celebratory writing. The term refers to a book compiled to honor the lifetime contributions of a professor, with original essays from the faculty member's former students and colleagues.
Knight, the Drucilla Moore Buffington Professor of Hebrew Bible and professor of Jewish studies, was presented the first copy of Focusing Biblical Studies: The Crucial Nature of the Persian and Hellenistic Periods during the Society of Biblical Literature's annual meeting in Chicago.
"This is an extraordinary honor which I had never anticipated during my career," Knight said. "As a graduate student, I looked forward to a life of teaching and scholarship, and I have contributed to a number of Festschriften along the way. But I never imagined that one day I too would be recognized with this wonderful gift."
The book was co-edited by Jon Berquist and Alice Hunt, both of whom were doctoral students of Knight in Vanderbilt's Graduate Department of Religion. Hunt, who previously taught at Vanderbilt, wrote in the book's introduction that Knight "…continues to move the world of biblical studies, and particularly that of Hebrew Bible studies, toward greater justice and mercy." She also noted how he "…builds bridges between worlds. His encouragement of dialogue between Scandinavian and U.S. biblical scholarship certainly stands as an example, but it is his work over the last 20 years in opening up the social world of ancient Israel and the ancient Near East that continues to bear fruit in the academy."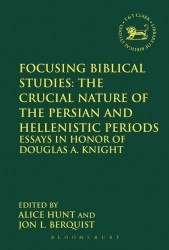 Other former students of Knight who contributed essays were Cheryl Anderson, Deborah Appler, Jennifer Koosed, David Penchansky, Ken Stone and Kristin Swanson.
Participating Vanderbilt faculty were Jack Sasson, the Mary Jane Werthan Professor of Jewish Studies and Hebrew Bible; Annalisa Azzoni, assistant professor of Hebrew Bible and ancient near eastern cultures; and Herbert Marbury, assistant professor of Hebrew Bible. Marbury is also one of Knight's former students.
The remaining contributors are from the University of Sheffield, Copenhagen University, Tel Aviv University, Yale University, Duke University, Pacific School of Religion and Case Western Reserve University.
The book focuses on the Persian and Hellenistic periods, with the Persian era beginning around 539 B.C.E. and ending around 331 B.C.E. The Hellenistic era runs from that point until the first century B.C.E., when the Romans displaced the Greeks.
"That long period, roughly from the sixth century to the first century B.C., is now considered to be a much more crucial time for the production of the Hebrew Bible than many past scholars had believed," Knight said. "Oral traditions may have preceded much of the literature, but, in general, the Hebrew Bible did not come into its present form until the Persian and Hellenistic periods, perhaps even some of it during the Roman period."
Knight said he looks forward to reading all of the essays and responding to the authors about their contributions. "We all tend to work on this same historical time period but with different emphases and approaches. I am delighted and deeply honored to receive the results of their collaboration in researching this key period in history."