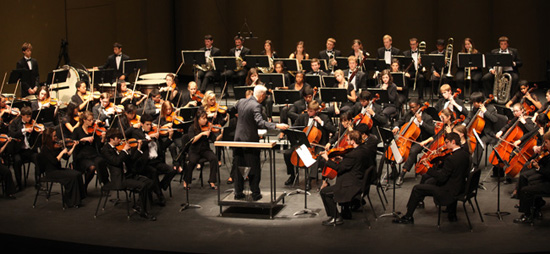 Members of the Nashville community will have a chance to hear the Vanderbilt Orchestra in concert before the group departs for a more than weeklong tour of China.
The orchestra's "farewell" concert is scheduled for 8 p.m. Sunday, Dec. 23, in Ingram Hall. The event is free and open to the public. The performance will include selections by Leonard Bernstein, John Williams, Antonín Dvořák, Aaron Copland and Johann Strauss.
Approximately 75 Blair School of Music students comprise the orchestra, which will tour China over Vanderbilt's Winter Break under the direction of Professor of Conducting Robin Fountain. The group will arrive in Shanghai Dec. 26 and play public concerts in Xingtai, Nanjing, Yancheng, Beijing and Yantai, China, over the course of the week.
The performances will feature Blair alumni Kathryn Heaton, an accomplished soprano, and Dean Whiteside, currently a conducting student at the prestigious Vienna Conservatory of Music.
"This is a working tour and not a vacation," said Fountain, who noted that the orchestra will travel by plane and even bullet train between concert stops on its packed schedule. The current China tour follows a similar one taken by the Vanderbilt Orchestra six years ago, which Fountain recalls as "life-changing" for students.
"It was a simply astounding experience in which the students grew enormously, both as musicians and as people," he said. "I expect the same will happen for the current students. They're getting to tour China as undergraduates. How many student musicians can say that?
"We're extremely grateful to the Blair School's senior administration and Dean Mark Wait for making this trip possible," Fountain said.
The orchestra will return to the United States Jan. 3.