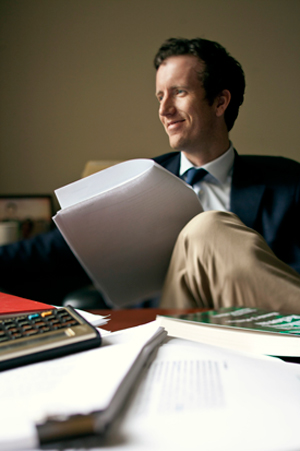 When the financial crisis hit in September 2008, Morgan Ricks knew what he had to do.
"I was on a trading desk at a hedge fund when the crisis started," Ricks said. "The day after Obama was elected, I quit my job and devoted myself to finding a position in the policy world, preferably in Treasury."
Ricks, who joined Vanderbilt Law School as assistant professor of law this fall, was uniquely qualified to help the U.S. Treasury Department during the most challenging financial crisis in decades.
Ricks, who was raised in Oak Ridge, Tenn., was then an investment professional at the Citadel Group, responsible for a multibillion-dollar portfolio. After graduating from Dartmouth and Harvard Law School, he had worked as a corporate lawyer for a major Wall Street firm before joining Merrill Lynch and then Citadel.
"Treasury was thrust into a role of investing hundreds of billions of dollars into the financial system," Ricks said. "These were investment transactions—that was the first expertise I had. The other thing I had that was less common was that I had been an investment banker and my clients were mostly banks, so I had developed an expertise in investments in banking institutions."
Ricks became the second person hired for the Obama administration's Treasury crisis management team.
"[lquote]It was such a unique time in history. … I wanted to be close to the action and I wanted to be helpful," he said.[/lquote] He describes his time at Treasury as exhilarating, challenging, grueling and, ultimately, fulfilling. "I'm proud of what we accomplished. … I do sincerely believe that we avoided a Depression-level economic disaster."
After serving the Treasury Department, Ricks returned to Harvard as a visiting assistant professor before coming to Vanderbilt, where he teaches Regulation of Financial Institutions and Regulating Financial Stability.
While his overall scholarship focuses on financial regulation, his current work calls for regulation of short-term funding markets. That aspect of finance, virtually unknown to the public, involves financial services firms funding their operations with very short-term borrowing. In an economic downturn, that could be disastrous. "There is a growing set of scholars, including some notable economists, who are convinced that this should be the central focus of reform, and I share that view," the former Treasury adviser said.
"By my estimation, there are about $20 trillion of short-term borrowings in the financial system. This, to me, needs to be one of the central fronts for regulatory action," Ricks said. "Virtually all of my scholarship is about this problem—I think this really is the central problem for financial regulation."
View the complete list of new university faculty for 2012-13.
View the complete list of new medical faculty for 2012.
by Nancy Wise