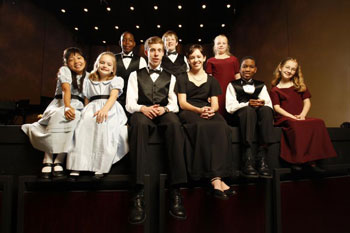 One of the most popular ensembles in Vanderbilt's precollege division, the Blair Children's Chorus, will present a free concert at Ingram Hall on Dec.14 at 7:30 p.m. This concert will feature performances by each of the six choirs of the Children's Chorus, including some traditional holiday favorites.
The Blair Children's Chorus is now under the direction of Vanderbilt's new Director of Choral Activities Dr. Tucker Biddlecombe. He is assisted by his wife, Mary Biddlecombe; Assistant Director and Blair School of Music graduate Coni Ely Guerin; and several student assistants enrolled in the five-Year Bachelor of Music/Master of Education at Vanderbilt.
Established in 1988, this classically-based program is comprised of six different ensembles, each specific to age and musical experience. Each ensemble rehearses once a week in the early evening. The Concert Choir (high-school girls), Young Men's Chorus (high-school boys with changed voices), Choristers (girls grade 5 and up), Boychoir (boys grade 3 and up with unchanged voices), Young Singers (girls grade 3 and up) and Preparatory Choir (Grades 1-3 boys and girls). No musical experience is necessary to participate, and musicianship training is included as part of enrollment in the program.
"[rquote]It's our goal to inspire young people and cultivate musical independence," Biddlecombe said. "By the time a student graduates from the Blair Children's Chorus, it is our hope that they will have acquired the necessary musical skills that support lifelong music-making."[/rquote]
Growth is also a priority for the Blair Children's Chorus. It is the hope of the directors that the enrollment will double over the course of the next three years. In response, Blair's pre-college division has slashed BCC tuition prices and now offers a 25 percent multiple child discount.
"We are looking for all types of students. While previous musical experience would be great, we're also teachers; that's we love to do," Biddlecombe said. "A first- or second-grader who loves to sings along with the TV is perfect for our Preparatory choir. The BCC is also a great musical option for homeschooled students."
Auditions will be held for new students on Saturday, Dec. 15, 10 a.m.-12 p.m., and Monday, Dec. 17, 5-7 p.m., at Blair School of Music (signs will be posted).
No appointment is necessary, and students do NOT need to prepare an audition piece.
For more information about audition requirements, and general information, visit the Blair Children's Chorus online.
Contact: Kristin Whittlesey, (615) 322-7656
kristin.whittlesey@vanderbilt.edu