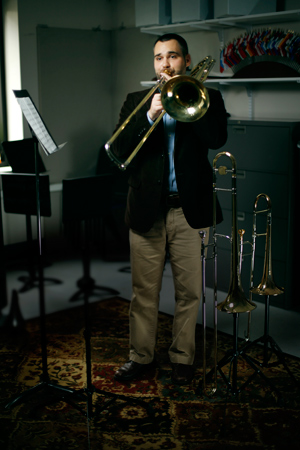 Few musicians win their first orchestral audition, and the likelihood that the first audition is with the prestigious Vienna Philharmonic is very slim. That puts Jeremy Wilson, Blair School of Music's new associate professor of trombone, in a class all by himself.
Wilson was a master's degree student at the University of North Texas when he entered the International Trombone Association's solo competition. One of the judges for that competition was Ian Bousfield, the principal trombonist of the Vienna Philharmonic.
"He heard my competition CD and liked the way I played," Wilson said. "They had an audition coming up in a few months, so he contacted the competition coordinator and asked who I was. That's how I got the initial audition invitation."
Wilson prepared while completing his master's degree, then traveled to Austria a week before the audition at Bousfield's invitation for some final coaching.
"This was one audition I wanted to win," Wilson said.
Win it he did. For the last five years, Wilson has circled the globe, playing in the world's finest concert venues with one of the world's finest orchestras.
"It actually was two jobs in one," Wilson explained. "You get in the Vienna Philharmonic by auditioning for the Vienna State Opera. When you combine the two entities—the state opera and the philharmonic—it's the busiest orchestra in the world."
That meant Wilson performed in the state opera orchestra about 15 evenings per month in addition to rehearsals, plus he played two or three philharmonic blocks per month.
"I'll miss playing with the orchestra, but I won't miss the busyness," he said.
As a result of the constant playing and touring, Wilson has amassed an enviable repertoire—one that most musicians would take twice as long to master.
"[lquote]Even though I was there only five years, I feel even more prepared to teach. It's a lot of repertoire, so I'm very grateful to have had that chance."[/lquote]
The McMinnville, Tenn., native is glad now to have the chance to come home. He, his wife (also a native Tennessean) and their 3-year-old son are enjoying time with each other and with family.
"It was tough being so far away," Wilson said. "Some people are truly world citizens. They're wired to live wherever. We're not wired that way, so having this job is unspeakably awesome. I'm glad I'm here. I'm having a blast already."
View the complete list of new university faculty for 2012-13.
View the complete list of new medical faculty for 2012.
by Bonnie Arant Ertelt