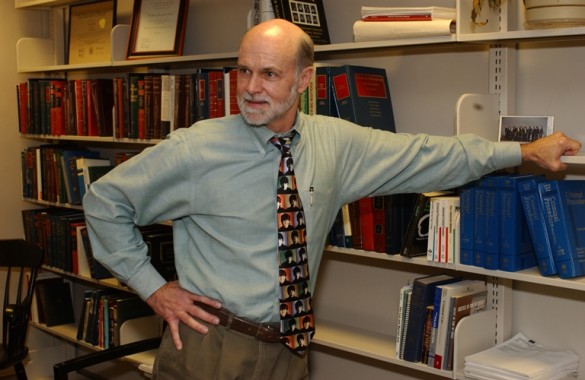 Donald J. Hall, longtime professor of criminal law at Vanderbilt Law School and author of a nationally used casebook on the subject, died Nov. 29 after a long illness. He was 69.
Hall spent his entire academic career at Vanderbilt, starting in 1970 and retiring in 2007. He served as associate dean of the law school from 1979 to 1984.
Chancellor Nicholas S. Zeppos was a longtime colleague of Hall at the law school.
"Sometimes special people come along within institutions that lift them into being more than the sum of the brainpower and ambition and achievements they produce," said Chancellor Nicholas S. Zeppos. "Don was one of those special people. He cared about the law, but he also cared deeply about his students and colleagues as people.
"His traditional last lecture of the semester about finding a job that inspired you every day is a lesson that still rings in the ears of many of his students. Vanderbilt Law School will continue to benefit from his influence for many years."
A native of Waltham, Mass., Hall joined the Vanderbilt faculty after earning a J.D. from the University of Florida Law School in 1968 and two years of private practice in Sarasota, Fla. He was one of the inaugural recipients of the Vanderbilt Chair of Teaching Excellence in 1994. He was selected nine times by the law school student body to receive the school's outstanding teacher award, which was renamed for him in 2005.
"Don was revered by his students, and rightly so, as an outstanding teacher and mentor," said Chris Guthrie, dean of Vanderbilt Law School. "He was an important part of the Vanderbilt Law School experience and contributed greatly to the life of the law school for almost 40 years. I was sorry to see him retire five years ago and am greatly saddened by his death."
Hall was the co-author of Criminal Procedure: The Post-Investigative Process, which is widely used in law schools. In 1990, Hall was the inaugural recipient of the Tennessee Bar Association Outstanding Law Professor Award. He served as co-chair of the State Supreme Court's Commission on Gender Fairness and helped shape the state's revised penal code as a member of the Tennessee Sentencing Commission. Hall was appointed by the governor as one of the first six members of the Tennessee Ethics Commission.
"Professor Hall has influenced my life and career more than any other person," said Lonnie T. Brown, a professor at the University of Georgia School of Law and Vanderbilt Law School alumnus in an article about Hall in the 2007 issue of Vanderbilt Lawyer. "He affected me profoundly as a teacher and role model during my days at Vanderbilt, so much so that I remained in contact following graduation and ultimately chose to follow in his large academic footsteps."
Hall's survivors include wife Nancy Hall; daughters Pamela Sonderman and Kelly Klaaren; brother George Hall; sister Susan Naylor; and four grandchildren.
In lieu of flowers, Hall's family requests that memorials be directed to Family and Children's Service of Nashville, the Donald J. Hall Scholarship Fund at Vanderbilt Law School, or a charitable organization of the donor's choice.