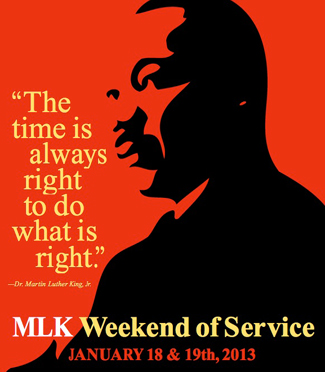 Join students, staff and faculty from across the Vanderbilt campus by participating in a diverse array of community service projects during MLK Weekend, Friday, Jan. 18, and Saturday, Jan. 19. Various group leaders will develop projects that address community needs and foster community engagement through service and action.
Not only will we be asking "Where do you see justice in the community?" but also, "What are you doing to promote it?"
The deadline for project submissions is Dec. 5. Service opportunities will be made available to students, staff and faculty on Dec. 11.
In addition, the Office of Active Citizenship and Service will host a reflection event following the Weekend of Service on Monday, Jan. 21, from 4 to 4:45 p.m. in Rand 305. Please plan to join us to discuss your project, investing in our community, and what it means to be an "active citizen" and to engage in service.
For more information on service opportunities or for questions, contact oacs@vanderbilt.edu.
Contact: Erika Larson
erika.l.larson@vanderbilt.edu