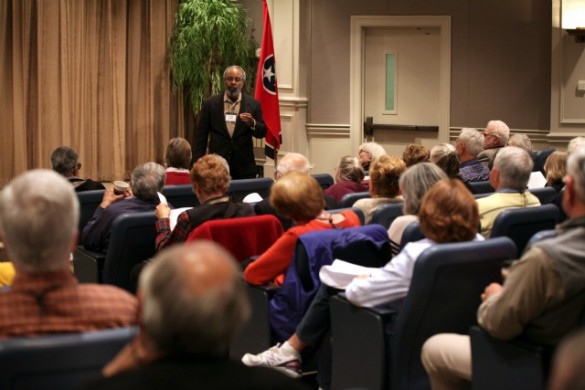 Topics range from opera to obesity
Online registration is now open for the 2013 winter term of the Osher Lifelong Learning Institute at Vanderbilt University.
Lifelong learners aged 50 and above can sign up for the non-credit, six-week classes taught by Vanderbilt faculty, alumni and other experts. The charge for the winter term is $80 and enables the participant to sign up for one to three classes. Additional classes beyond three are $10 per course.
The annual membership fee for the Osher Lifelong Learning Program at Vanderbilt is $10 and includes invitations to field trips and Lunch and Learn sessions.
The following courses are scheduled:
"Sixty-Five Years of French Film: 1895-1960," taught by Amy Bertram Read, lecturer at the Watkins College of Art, Design and Film, will focus on French filmmakers of that era. They include the Lumières brothers, Salvador Dalí and Jean Cocteau. The class begins Jan. 7, from 9:30 to 11:30 a.m., at St. George's Episcopal Church, 4715 Harding Road.
"Skills for Investing in Today's Evolving Markets," taught by author Michael C. Thomsett, will provide a non-technical approach intended for conservative investors seeking clarity and guidance in managing their portfolios and methods for picking stocks. Starting Jan. 8, the class meets from 9:30 to 10:45 a.m. at Belle Meade United Methodist Church, 121 Davidson Road.
"The Invisible Line" will be taught by Daniel J. Sharfstein, professor of law and author of the award-winning book The Invisible Line: Three American Families and the Secret Journey from Black to White. The class, which includes discussion on the techniques of genealogical research, starts Jan. 8, from 11 a.m. to 12:15 p.m. The location is Belle Meade United Methodist Church.
"Global Health and Global Music," taught by Gregory Barz, associate professor of musicology (ethnomusicology) and associate professor of religion, begins Jan. 9, from 9:30 to 10:45 a.m. The class, which focuses on the roles and functions of music (and the arts more broadly) within historical and contemporary global health concerns, takes place in the Commons Center on the Vanderbilt campus.
"Sailing on the High C's: The Outlandish, Overwhelming Art of Opera," will be taught by John Bridges, former classical music editor for the Tennessean and former columnist and editor for the Nashville Scene. Students will be introduced to many of the greatest voices captured since the beginnings of the phonograph. The class meets from 11 a.m. to 12:15 p.m., starting Jan. 9, at the Commons Center.
"America and the Vietnam War," taught by Thomas A. Schwartz, a professor of history and political science at Vanderbilt, will examine the war's history, United States' involvement, anti-war protests and more. The class begins Jan. 10, from 9:30 to 10:45 a.m., at the Commons Center.
"Better Living Through Economics" will be taught by Vanderbilt Professor of Economics John Siegfried, who has written a book with the same title. Siegfried will focus on various case studies to demonstrate how economic research has improved societal conditions over the past 50 years by influencing public policy decisions. The class begins Jan. 10, from 11 a.m. to 12:15 p.m., at the Commons Center.
"Obesity: A National Health Crisis" will look at various perspectives on how obesity is influencing the health and economy of the United States, and, in particular, Nashville. Among the variety of speakers will be Vanderbilt Writer-in-Residence Alice Randall, who wrote Ada's Rules: A Sexy Skinny Novel. The class begins Jan. 11, from 9:30 to 10:45 a.m., at The Temple, 5015 Harding Road.
"Moral Questions in Shakespeare" will be taught by Ann Jennalie Cook Calhoun, professor of English, emerita, at Vanderbilt. The Merchant of Venice, A Midsummer Night's Dream, Henry V, Richard III, Othello and King Lear are among the plays to be examined. The class will begin Jan. 11, from 11 a.m. to 12:15 p.m., at The Temple.
To sign up for the classes, visit http://www.vanderbilt.edu/olli/ or to receive a brochure, call 343-0700.