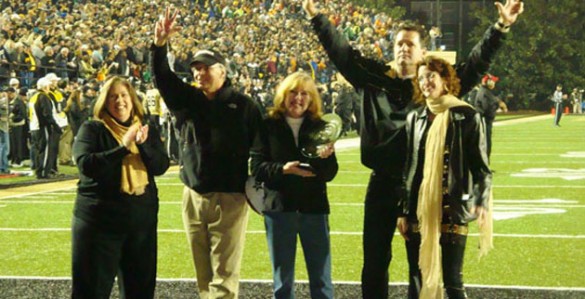 Vanderbilt's Department of Pathology, Microbiology and Immunology was the winner of the first Vanderbilt Athletics' Sustainability Competition. The group celebrated their honor as the "Greenest Group on Campus" with a VIP tailgate, complimentary football tickets and on-field recognition at the Vanderbilt vs. Tennessee football game Nov. 17.
Sam Santoro, chair of pathology, microbiology and immunology at Vanderbilt University Medical Center, and Doris Culver, an administrative assistant in the department, were presented a recycled glass award and a football signed by head coach James Franklin by Andrea George, director of Vanderbilt's Sustainability and Environmental Management Office; Tim Wells, area vice president for Waste Management; and Jessica Preston, area sustainability program director for Waste Management.
The competition, sponsored by Vanderbilt Athletics, Waste Management and SEMO, invited all groups, teams, departments and campus organizations to compete for the title of "Greenest Group on Campus" by completing a checklist of sustainable actions under the categories of Reduce, Reuse, Recycle; Energy and Water Savings; and Transportation. Additionally, there was a section where groups could describe innovative sustainability actions going on within their department or organization.
Pathology, Microbiology and Immunology was recognized for its creativity in acting sustainably. Some of the department's innovations include staff making their own notepads out of old paper only printed on one side, bringing reusable mugs and silverware from home each day and completely eliminating paper and Styrofoam cups and plastic silverware in the department's kitchen.
With regard to research, the Pathology, Microbiology and Immunology lab receives more than 3,000 tubes of blood each day and reuses them for DNA research. Each tube that is used for research results in reduced biohazard waste that will eventually need to be incinerated. Additionally, the CHTN biorepository that is part of the department reuses shipping boxes and Styrofoam that they collect from other departments in VUMC to ship out tissue specimens used by research faculty from Tennessee to California.
The department also tries to cut down on waste in several different areas. Staff recycled more than 2,500 toner cartridges last year, and when trash bins are not full, they leave a note for cleaning services specifying that there is no need to empty the trash and/or replace the bag. Their estimates show that this saves approximately 28,000 plastic bags from being used per year. Another way they eliminate waste is by donating the cardboard boxes they receive from office and lab supply shipments to outreach programs such as Rescue Mission or the AmVets.
Vanderbilt Athletics, Waste Management and SEMO are very pleased by the large number of worthy applications received for the first annual Vanderbilt Athletics Sustainability Competition and look forward to additional exciting applicants during the basketball season competition and in coming years.
Contact: SEMO, (615) 322-9022
SustainVU@vanderbilt.edu