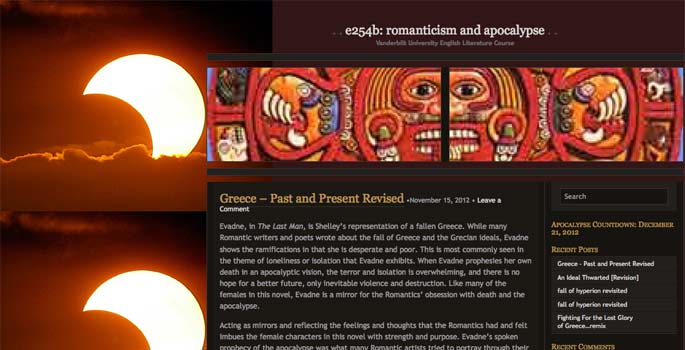 Social media tools have changed the way people communicate, learn and share ideas—and the academic world is no exception. More than ever before, professors, including some here at Vanderbilt, are using blogs to supplement more traditional teaching and grading methods.
Blogs are an ideal teaching tool because they provide a virtual interactive gathering place where students can learn from each other, express themselves, comment on and critique their classmates' work, and explore course material in a collaborative way, according to Assistant Professor of English Humberto Garcia.
Garcia did not consider himself tech-savvy when he first began exploring the idea of using blogging to enhance his teaching a few years ago, but since then he has found blogs to be a helpful and relevant tool that he has incorporated into four of his courses.
"[rquote]My blogs have allowed me to tap into the framework of pop culture and motivate students to make meaningful connections with each other," Garcia said.[/rquote]
In Garcia's classes, including the honors course The Romantic Period: Romanticism and Apocalypse, about 30 percent of the course requirement is blogging, he said. Students are charged with writing weekly essay posts in addition to a typical term paper. Rather than grading their posts, Garcia requires the students to read and grade their classmates' essays online, commenting on them and critiquing them based on sophistication, dialogue, artistry and use of the medium.
"This format creates a healthy dynamic of open criticism and dialogue, and it's a place where a lot of great ideas are born," Garcia said. "All of that feeds into the classroom discussion. And, through this format, I make them teachers—of the public and their peers."
Because the idea of the apocalypse is currently a topic of debate among bloggers, Garcia said his class blog has attracted some interest in circles outside Vanderbilt.
"I welcome my students being a part of this national discussion," he said. "But I do monitor the comments and screen out ones I don't feel are helpful to the learning environment."
"I have found a system that works, and the students are more verbal and engaged overall," he said. "However, there are certain aspects of tradition teaching that cannot, and should not, be replaced by digital media."
Allison Schachter, assistant professor of Jewish studies and English, was drawn to the idea of a blog because of the visual element she wanted to incorporate into her coursework for her class Literature, Photography and Memory. The class explored how photographs structure and obscure memories and looked at the relationship between photography, narrative and personal memory. Students were given two kinds of assignments: a short weekly post with an image, and a 1,000-word essay that was to include multiple photographs.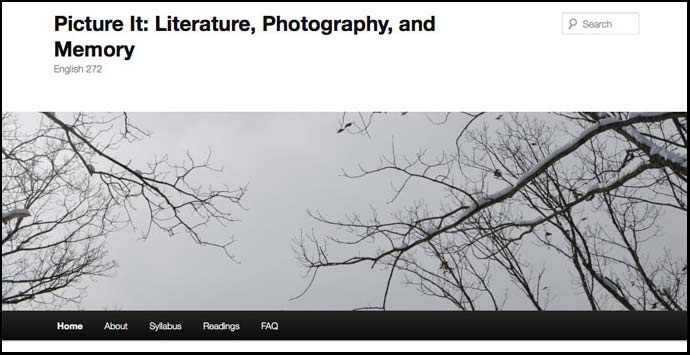 "I wanted my students to do assignments that included visuals and text, and I wanted to engage with experimental writing," Schachter said. "I liked that the blog was a public element because it would help them visualize a public audience and write as if it were a magazine. In the end, I was really impressed with the beautiful, thoughtful posts."
Although Schachter was familiar with blogging through her personal food-related blog, this new approach to teaching had its challenges.
"Although the website was easy to set up, it could be time-consuming to manage. But overall I loved this medium and would do it again," she said. "The grading and commenting could get arduous, so next time I'll use a clear rubric and utilize peer grading from the start."
Both Schachter and Garcia turned to the Center for Teaching for guidance on using blogs before getting too far into the process.
Derek Bruff, director of the Center for Teaching, is a senior lecturer in the Department of Mathematics who uses blogs as part of his teaching process.
"[rquote]A course blog can be used to connect students with authentic audiences for their academic writing, including fellow students as well as interested readers beyond Vanderbilt," Bruff said.[/rquote] "However, it's worth noting that course blogs aren't a good fit for larger, more synthesis-oriented activities, like research papers. There's still a need, I think, for end-of-term projects and assessments."
Bruff and other teaching consultants at the CFT are on hand to talk with instructors at Vanderbilt who need help getting started with blogging. The CFT also has an online guide to teaching with blogs and a site where a variety of Vanderbilt course blogs are aggregated.
Technical support resources at the CFT are limited, so faculty need to be able to commit to learning the process of setting up and using the blog and helping their students along the way.
"We can't build out their blogs or train their students to use them; we're not a help desk," Bruff said. "But we're happy to help faculty think through the teaching choices involved in using course blogs. Students often find using them to be highly motivating, so I think it's worth the time investment on the front end."
Faculty can use whatever blogging platform they prefer, including my.vanderbilt.edu, a system designed for faculty, students and campus groups who want a Web presence for blogging, teaching or showcasing their events. For more information, visit the Center for Teaching online.