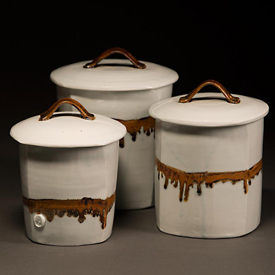 The 22nd Annual Sarratt Holiday Arts Festival, scheduled for Nov. 29–Dec. 7, will feature the work of 20 craft artists from the Middle Tennessee area.
Handmade jewelry, pottery, leather purses, wood items for the kitchen, prints, photography and more will be available at affordable prices.
Like Sarratt Art Studios on Facebook to see photos of some of the items that will be available this year, including bath and body items from Thistle Farms, which supports the Magdalene Project.
New this year is The Empty Bowl Project. Assistant Director David Heustess and Sarratt Art Studios have been working with several student groups to create a variety of ceramic bowls. Proceeds from the sale of these bowls will go to Second Harvest Food Bank.
This year's festival opens on Thursday, Nov. 29, and runs through Friday, Dec. 7. Shopping hours are 11 a.m.–7 p.m. daily. A reception for the artists will be held from 4:30 to 6:30 p.m. Nov. 29 in the Sarratt Gallery.
Contact: David Heustess, (615) 343-0491
david.f.heustess@vanderbilt.edu