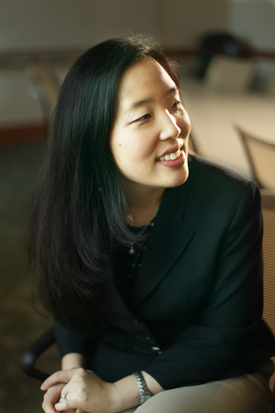 The talk around the dinner table in Cecilia Hyunjung Mo's childhood home frequently turned to difficult political issues.
"My family is from Korea," Mo said. "My father was a political activist, and as his country was struggling to establish a functioning democracy and thriving economy after the Korean War, he saw many of his friends go to prison because of what they believed. He often reflected on his experiences, and I think our frequent dialogues sparked and cultivated my deep interest in politics and economics."
Her late father, Youn Ho Mo, was a political scientist. He hoped Cecilia would be an engineer or a doctor.
"He often said political science is a field of heartbreak because you're dealing with the complexities and messiness that come with trying to build strong institutions, resolve conflict and develop sound policies. Solutions are not created overnight," Mo said. "[rquote]He said it was heartbreaking work because you knew in your lifetime you wouldn't necessarily see the kind of progress you would like to see."[/rquote]
Perhaps it was inevitable. Mo earned her master's degree in public policy from Harvard University and a doctorate in political economics from Stanford before joining the Department of Political Science at Vanderbilt as an assistant professor this semester. She focuses on political economy, political behavior, and public policy.
Among her research interests are "heartbreaking" topics such as why people vote against their own economic interests or sell their children into forced labor.
"I've done some work looking at how families make decisions that might put their children at risk for human trafficking," she said. "On the surface it would seem that a parent putting their child at that risk is irrational or simply bad. Those are not the right answers.
"They know it could be a trafficker, or it could be a legitimate job where the child will be put on a better life trajectory than what is available to the child locally. Parents see cases in which children who migrate for work send remittances home and receive assistance in developing skills that help them become a healthy functioning adult," Mo said. "So, it's a calculated risk."
Mo chose to move to Vanderbilt and the South despite offers to stay in California. Her husband, Yiaway Yeh, will join her in Nashville in January, when his term as mayor of Palo Alto, Calif., ends.
"Looking at my dissertation, I saw that there were people that I cited that were at Vanderbilt," she said. "Some of them were elsewhere when I started my research, so Vanderbilt was displaying a kind of gravitational pull to scholars I was already interested in."
View the complete list of new university faculty for 2012-13.
View the complete list of new medical faculty for 2012.