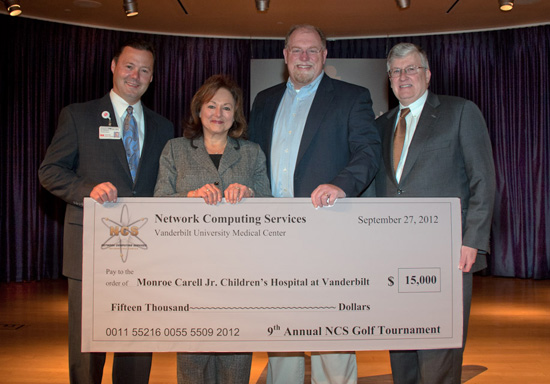 The Ninth Annual Network Computing Services Golf Tournament was held Sept. 27 at Vanderbilt Legends Club in Franklin, Tenn. This year's event raised $15,000 to support pediatric cancer research.
Jeff Kimble, director of Network Computing Services at Vanderbilt, and Carol Capps, office technology coordinator for NCS, recently presented the check to Luke Gregory, CEO of the Monroe Carell Jr. Children's Hospital at Vanderbilt, and Chris Lee, associate director of Vanderbilt Medical Group.
To date, NCS has given a total of $81,500 to the Children's Hospital.
Contact: Corrie Cron, (615) 343-5970