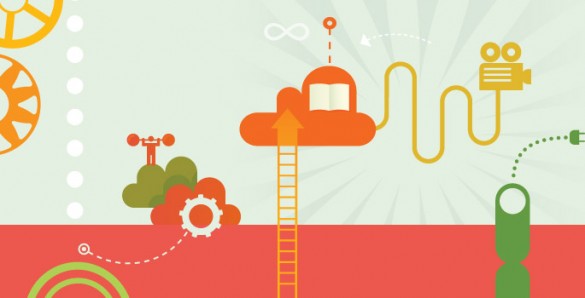 Vanderbilt University and nine of the nation's other leading colleges and universities announced plans Nov. 15 to begin offering selected courses online for credit. The new online education offering, Semester Online, will be the first of its kind to offer undergraduate students the opportunity to take rigorous, online courses for credit from a consortium of leading colleges and universities.
In addition to Vanderbilt, consortium members include: Brandeis University, Duke University, Emory University, Northwestern University, The University of North Carolina at Chapel Hill, University of Notre Dame, University of Rochester, Wake Forest University and Washington University in St. Louis.
Semester Online courses will be delivered through a virtual classroom environment and interactive platform developed by 2U, formerly known as 2tor. 2U's platform includes live class sessions that connect students and professors; richly produced, self-paced course materials; and a strong social network that allows students to connect and build relationships with peers online.
"We are especially impressed with the strength of the partnership," Richard McCarty, Vanderbilt provost and vice chancellor for academic affairs, said. "[rquote]2U has taken the lead in drawing together great colleges and universities and we look forward to being an active member of the consortium."[/rquote]
Beginning in the fall of 2013, Semester Online will be available to academically qualified students attending consortium schools as well as other top schools across the country. Information about specific Semester Online courses and the application process will be available in early 2013.
Students will pay tuition for the courses in which they enroll.
The Semester Online partnership marks a next step in Vanderbilt's exploration of digital learning. On Sept. 19, 2012, the university announced it will offer five not-for-credit courses for free through the digital learning consortium Coursera beginning in 2013.
Watch video of Chancellor S. Zeppos discussing Vanderbilt's involvement in digital learning.
"By making for-credit online undergraduate coursework a reality for these top schools, Semester Online represents an important milestone for undergraduate education, one that will influence the wider adoption of for-credit online learning across all of higher education," said Chip Paucek, co-founder and CEO of 2U. "Semester Online demonstrates 2U's mission to help great schools go online and provide high-quality learning experiences for credit, empowering students to continue their education as they follow their ambitions, anywhere."
Initial Semester Online courses will feature primarily the same faculty and curricula as their brick-and-mortar counterparts, with additional courses designed for the online format to be included in the future. Through a state-of-the-art virtual classroom, students will participate in discussions and exercises, attend lectures and collaborate with peers while guided by leading faculty.
Through Semester Online, students will have the chance to take advantage of unique course offerings from some of the most prestigious institutions in the country, courses to which they would not otherwise have access. They will be able to work, travel, participate in off-campus research programs or manage personal commitments that in the past may have meant putting their studies on hold.
The Semester Online consortium anticipates adding a small number of institutions prior to its launch in 2013.
2U currently supports some master's programs at the University of North Carolina Kenan-Flagler Business School and School of Government, the University of Southern California School of Social Work and School of Education, the Georgetown University School of Nursing and Health Studies and the Washington University in St. Louis School of Law.
For more information, visit vanderbilt.edu/digital-learning and semesteronline.org.