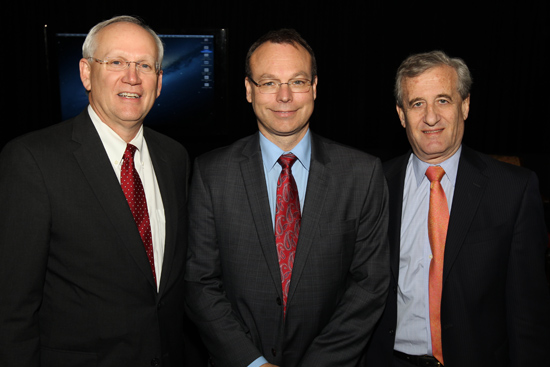 "Personalized medicine—the effort to tailor health care to understand individual patients' needs, genetic profiles and circumstances—is a big emphasis at the Vanderbilt University Medical Center," said Jeff Balser, vice chancellor for health affairs and dean of the School of Medicine at Vanderbilt, in his opening statement to a panel discussing personalized medicine at the Global South Summit Nov. 14.
The gathering, held at the Schermerhorn Symphony Center and The Pinnacle at Symphony Place in Nashville, convened leaders from around the world to define solutions that create abundance through innovation.
The other members of the panel Balser moderated were Dan Roden, assistant vice chancellor of personalized medicine at VUMC, who reported on what Vanderbilt is doing; and Raymond DuBois, provost at the University of Texas MD Anderson Cancer Center, who described the impact of personalized medicine on cancer treatment.
Personalized medicine, Roden explained, has an important research component, but it also includes many aspects of health care. Driving this effort is the increasing availability of individual genetic information. "[rquote]The era of the $1,000 personal genome is upon us," he said.[/rquote]
Traditional drug development is extraordinarily expensive, in part because of human genetic variability, the panelists explained. Although most people respond in the same way to a given drug, there are always outliers—individuals who experience harmful side effects or don't respond to the treatment.
"You can think of it this way: If you take 10 different drugs, you will probably react normally to nine of them but your reaction to the 10th will be abnormal," Roden said. "We just wish we knew which one that will be."
Scientists are convinced that most of this variability is due to the differences that exist in individual genomes. Vanderbilt is exploring this variability and pushing forward the frontiers of personalized medicine through its massive DNA databank, called BioVU, and through a program called PREDICT that helps physicians choose the best medications for their patients.
With 155,000 unique genetic samples, BioVU is now the country's largest collection of human DNA linked to searchable, electronic health information. Both the DNA samples and their companion medical records are "de-identified" so that individual patients cannot be identified. BioVU has become an invaluable resource for Vanderbilt researchers, enabling them to explore the genetic underpinnings of a wide range of diseases, from breast cancer to Alzheimer's disease.
PREDICT is a separate clinical decision-support program that tests Vanderbilt patients for genetic variations that affect how the body responds to commonly prescribed drugs. That information is shared with their physicians to help them choose the drugs most likely to work for their patients and least likely to cause serious side effects.
Roden described research that has identified a specific gene variant that greatly reduces the effectiveness of the drug clopidogrel (Plavix), which is frequently used to prevent strokes and heart attacks. Similarly, DuBois reported the identification of two gene variants—one that prevents the standard drugs used to treat melanoma from working, and another that actually makes things worse when patients are given the standard protocol for treating colorectal cancer.
"A crucial issue is establishing a system that will pay for these evidence-based treatments," DuBois said. Both he and Roden reported cases where insurance companies refused to reimburse for an alternative treatment that the researchers predicted would have a much greater chance of success based on this kind of genetic evidence, but were willing to pay for the standard treatment which was calculated to have a very low probability of success.
In these cases, they provided the patients with the treatments that they thought were best even when they weren't covered by insurance. "Academic research centers have to put their money where their mouth is," Roden said.
"Getting reimbursement for these treatments has become an adversarial process, one that I am afraid will get worse before it gets better," DuBois added.
Insurance coverage will remain a major problem until the researchers can demonstrate that personalized medicine saves money and reduces the amount of time that patients spend in the hospital, according to the panelists.
Another essential enabling technology for personalized medicine is the transition to electronic medical records. "Vanderbilt has gone through this transition," Roden said. "Now that it is behind us, we are very glad that we did it, but it was extremely painful at the time."
In an attempt to determine the impact that these changes are having on patients, Vanderbilt researchers looked at the drug regimen prescribed to patients who received stents to treat their heart disease. The standard treatment is Plavix. The study found that half of those with the gene variant that reduces the effectiveness of Plavix were being switched to an alternative drug. According to Roden, this is significant because there are a number of reasons preventing individuals from using the alternative drug.
"We've shown that this information can change how doctors behave," Roden said. The next step is to demonstrate that this approach can improve patient outcomes and can help reduce health care costs.