Media Inquiries
Latest Stories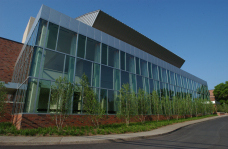 The Vanderbilt Symphonic Choir will give a performance featuring the choral arrangements of Robert Shaw and Alice Parker, two icons of choral music in the 20th century, at 8 p.m. Thursday, Nov. 15, in Ingram Hall. The concert is free and open to the community.
Shaw was founder of the world-renowned Robert Shaw Chorale and the preeminent choral conductor of the 20th century. His techniques revolutionized the way conductors prepare and rehearse musical scores, and his legacy lives on in an exhaustive recorded discography of choral classics.
The concert will feature Shaw and Parker's arrangements of familiar hymn tunes, folk music and songs by American composer Stephen Foster. Narrated by Blair Associate Dean Pam Schneller, this multimedia event will illustrate the invaluable contributions Shaw and Parker have made to the choral art.
The Vanderbilt Symphonic Choir is under the direction of new Associate Professor and Director of Choral Activities Tucker Biddlecombe.
Contact: Tucker Biddlecombe, (615) 322-5801
tucker.biddlecombe@vanderbilt.edu