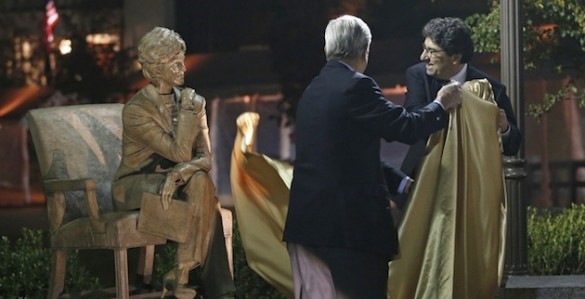 An outdoor sculpture of Martha R. Ingram, commissioned by Vanderbilt University to honor her leadership and philanthropic service to the school, has been placed where she helped launch the first phase of College Halls at Vanderbilt.
The outdoor sculpture, created by noted California artist Bruce Wolfe, is located in the part of campus known as The Martha Rivers Ingram Commons at Vanderbilt, which brings together all first-year students into a living-learning community with houses headed by Vanderbilt faculty.
The sculpture, first proposed by Vanderbilt Chancellor Nicholas S. Zeppos in 2010, was unveiled Nov. 8 during a Board of Trust reception at The Ingram Commons.
"Martha Ingram's longstanding, dedicated service to Vanderbilt is an inspiring example of how strong leadership and a commitment to giving back can make a transformative difference in a university community and in the lives of its students," Zeppos said. "This bronze likeness will remind all who come here of Martha's strength, grace and leadership. [rquote]It is with a sense of deep gratitude that we recognize her invaluable contributions with this enduring tribute to her vision of service, friendship and community."[/rquote]
"I think the vision that Martha had, and worked on with the Chancellor, to build what we see around us and to transform Vanderbilt into the place that it is today is very, very special," said Mark F. Dalton, chairman of the Vanderbilt Board of Trust.
Ingram, who served as chairman of the Vanderbilt Board of Trust for 12 years and is now an emerita member, has been a strong supporter of the university's move to build the College Halls. The project's second phase, known as Kissam College Halls, is scheduled to be complete in fall 2014.
"This beautiful new section of the Vanderbilt campus will have such an important mission in the life of the university – the first residential experience for new students for years to come," Ingram said. "To think my likeness might have a part in that going forward is, of course, a great honor and quite humbling. I feel the sculptor has done an extraordinary job. Even if it were a sculpture of someone else, I would think it a lovely work of art."
The sculpture, which depicts Ingram seated with space for others to sit nearby, is situated on a brick terrace surrounded by trees and plantings across the lawn from the Commons Center.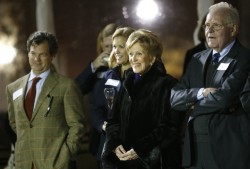 "The terrace and added walkways were constructed in 2011 so that the landscaping would have some time to mature while the artist was producing the sculpture," said Judson Newbern, deputy vice chancellor for facilities and environmental affairs. Newbern oversaw the planning process and worked closely with the artist. "We chose granite cubes for seating to add a contemporary feeling to the overall composition."
Wolfe's career in sculpture spans 40 years of receiving commissions to do busts and figurative portraits of many prominent people. These include Norman Shumway, a pioneer in heart transplantation; Barbara Jordan, a Civil Rights leader and U.S. representative; and Margaret Thatcher, former British prime minister. In addition, Wolfe created a bronze bust of Ingram for the Schermerhorn Symphony Center.