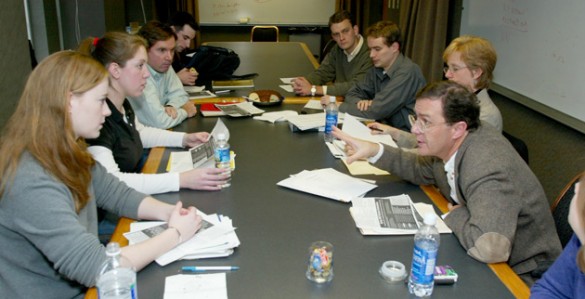 Vanderbilt takes seriously its mission to be a center for scholarly research, informed and creative teaching and service to the community and society at large. But it is faculty—semester in and semester out—who make that mission a reality.
To support faculty research, teaching and professional development needs, Vanderbilt has many resources available, including new and expanded programs serving the university and medical center communities.
Faculty Development Seminars
New this academic year is a series of Faculty Development Seminars sponsored by the Office of the Vice Provost for Faculty and International Affairs. So far this fall, the lunchtime presentations have addressed a range of relevant topics, including applying for internal funding, developing foundation and corporate partnerships, and tips for constructing an academic career path.
"A principal goal of my office is to help programs, departments and schools within the provost's areas to develop outstanding faculties," said Vice Provost for Faculty and International Affairs Tim McNamara. "With the Faculty Development Seminars, we aim to provide university faculty with resources and tools that they can use to develop productive and satisfying careers, whether they are newly hired, midcareer or seasoned members of the faculty." McNamara will lead a discussion later this semester about the promotion and tenure process.
Teaching Visits
This year, Vanderbilt's Center for Teaching is expanding its Teaching Visits program to include all tenure track and non-tenure track junior faculty on campus. It's part of the universitywide center's longstanding goal to offer programs that meet the needs of instructors at every stage of their careers—from graduate students just entering the teaching ranks to senior faculty fine-tuning their craft.
A Teaching Visit involves a small group of junior faculty observing a senior colleague's class on a selected day, followed by an hour of conversation about what was observed, particularly shared teaching challenges. Visits are made across the university in a variety of disciplines, and visitors do not have to teach in the same discipline as the course they are observing.
"The Teaching Visits program allows Vanderbilt instructors to be, in essence, participant observers in a class so that they may see exemplary teaching through a student's eyes and analyze a real-world case of teaching in its full complexity," said Joe Bandy, assistant director of the Center for Teaching. "This, combined with a postclass discussion with the host, allows for meaningful reflection on an array of teaching methods, styles and situations."
Junior Faculty Leadership Development Program
A third effort is the School of Medicine's Junior Faculty Leadership Development Program. Started in 2004, the program is aimed at junior faculty members conducting bench science who wish to learn and refine lab management and basic research skills. Over eight half-day sessions throughout the academic year, the program addresses topics such as leadership development, grant and manuscript writing, the grant submission and review process, self-awareness as a leader, financial management of a lab, human resources skills and more.
"These are not things that bench scientists necessarily learn in their training, but do find useful as they navigate a pretty complicated career path," said John Penn, assistant dean for faculty development at the School of Medicine. "We select a small group of the most promising junior faculty and provide them with these tools to ensure their success and take them to the next level."
It's just one of a number of programs sponsored by the School of Medicine's Faculty Affairs and Career Development Office, which oversees faculty appointments and promotions, academic development, training and compliance, and conflict of interest assessment and management.