Media Inquiries
Latest Stories
Vanderbilt University and the Vanderbilt Curb Creative Campus Initiative have launched a highly customizable mobile video booth designed to collect and share real-time, authentic stories and voices. The Vanderbilt Story Booth is being embedded in the campus experience and deployed by a wide range of campus partners to provide students, faculty, staff, alumni and visitors the opportunity to develop and share their stories.
The Story Booth pilot project offers the opportunity to capture high-quality video that conveys the "real voices" of students, faculty, staff and the multi-faceted nature of Vanderbilt's identity. The Story Booth also reflects the efforts of a wide range of campus partners to advance a common interest in storytelling and developing individual and institutional capacity to elicit and express ideas, stories and explorations of identity in compelling ways.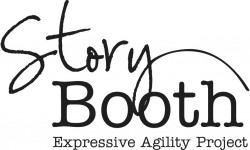 How it works
The Story Booth is mobile, handicap-accessible, and can accommodate two people for one-on-one interviews. Each time a person spots the Story Booth, he or she will be prompted to think of a relevant story by a question on the outside. When the booth is open for recording, individuals will go into the booth where they will share a little about themselves, push record, and go! Select videos will be featured on a special Story Booth website and other campus web and social media sites. The video will also be sent to the participant.
Developing Expressive Agility
The Story Booth will also be used in the classroom and by a range of campus partners as part of The Expressive Agility project. The Expressive Agility project complements the Vanderbilt Story Booth by offering experiential workshops, course innovations, online video instruction, and creative campus innovation pilots focused on building individuals' expressive agility—the ability to develop, reflect upon and compellingly share one's identity, stories and ideas using an array of media, and empathic listening and inquiry skills to elicit the stories and perspectives of others.
Campus Partners
The Story Booth was launched in 2012 as part of Vanderbilt's Human Identities theme year. Funding and/or support for the Story Booth has come from: