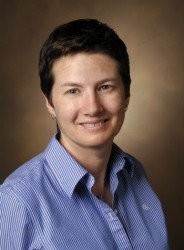 Melissa Snarr, a Vanderbilt University Divinity School professor who studies the intersection of religion, social change and political ethics, will deliver the 2012 Howard L. Harrod Lecture Nov. 8 in Benton Chapel.
Snarr, associate dean for academic affairs and associate professor of ethics and society, will address "Unions, Politics and Inequality: Putting Christian Ethics to Work."
Snarr said that with a backdrop of current news stories about prayer vigils on picket lines, clergy occupying state capitols and pastors decrying the "thuggery" of unions, she will explore whether collective bargaining is really a religious issue. She will then discuss how Christian ethics might help to assess the role of unions in the complex efforts to define and seek economic justice in the midst of stagnant wages and growing income inequality. Her talk, which is free and open to the public, starts at 7 p.m.
Among Snarr's research areas is the alliance of religion and labor in the living wage movement. Her most recent book is All You That Labor: Religion and Ethics in the Living Wage Movement (NYU 2011), which draws on extensive participant observation to analyze and evaluate the contributions of religious activists in the living wage movement. The book spotlights living wage campaigns in Nashville, Atlanta, Memphis and San Diego. Her current research projects analyze Protestant resources for/against unionization and interfaith organizing as a peace-building practice. She is also an expert on ethics. Courses she has taught include "Religion and Social Movements" and "Christian Political Thought."
She also is the author of Social Selves and Political Reforms (Continuum 2007) as well as several articles in the area of feminist ethics.
The Vanderbilt Divinity School Howard L. Harrod Lecture was established to honor Harrod, the Oberlin Alumni Professor of Social Ethics and Sociology of Religion, who taught for more than 30 years at Vanderbilt. Harrod worked extensively in environmental ethics and activism and was an advocate for new ways of understanding the relationships of humans with the animal and natural worlds.
The lecture is free and open to the public. Video of the talk can be viewed later at news.vanderbilt.edu. For more information, call Sha'Tika Brown at 615-936-8453 or email: shatika.brown@vanderbilt.edu.