Kelly Oliver, the W. Alton Jones Professor of Philosophy, will discuss her book Knock Me Up, Knock Me Down: Images of Pregnancy in Hollywood Films from noon to 1 p.m. Monday, Nov. 5, in Buttrick Hall, Room 123.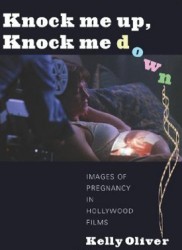 The image of a heavily pregnant woman, once considered ugly and indecent, is now common to Hollywood film. No longer is pregnancy a shameful condition, but an attractive attribute, often enhancing the romantic or comedic storyline of a female protagonist.
In her book, Oliver investigates this curious shift and its reflection of changing attitudes toward women's roles in reproduction and the family. Yet not all representations signify progress. She finds that in many pregnancy films, whether romantic, comedic or horrific, our anxieties over modern reproductive practices and technologies are made manifest and in some instances perpetuate conventions that curtail women's freedom.
Oliver is the author of nearly 100 articles and nine books.
The lecture is free and open to Vanderbilt students, staff and faculty. For more information, visit the Women and Gender Studies Department website.
Contact: Barbara Kaeser, (615) 343-7808
barbara.kaeser@vanderbilt.edu