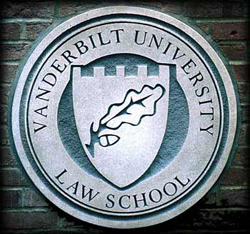 Vanderbilt Law School has welcomed six new members to its Board of Advisors. The Board of Advisors plays a crucial role in carrying out the law school's mission of providing an unparalleled legal education to its students and an intellectually vibrant community in which faculty can pursue teaching and scholarly excellence.
The new members are:
Andrew T. (Andy) Bayman, Class of 1989, a partner at King & Spalding based in Atlanta, where he leads the firm's tort litigation and environmental practice group;
Rachel A. Beck, Class of 2012, an associate at Lewis Brisbois Bisgaard & Smith in San Francisco;
Robert M. (Bob) Beck Jr., Class of 1975 (BA '71), a member of Stites & Harbison based in Lexington, Ky. He is a transactional lawyer who focuses on equine law;
David R. Gelfand, Class of 1987 (BA '84), a partner in the New York office of Milbank Tweed Hadley & McCloy, where he focuses on litigation and arbitration group;
Michael B. (Mike) Hammond, Class of 1975, a co-founder and principal of Hammond Hanloc Camp, a health care investment banking and financial advisory firm; and
Christine E. (Chris) Lagod, Class of 1980, who has practiced general litigation in Nashville and San Francisco. She helped establish the mock trial program at the Menlo School in Atherton, Calif., where she coaches the high school team.
The Board of Advisors meets at the law school each fall during Reunion weekend and each spring in conjunction with the annual Founders Circle Dinner. Members serve three-year terms, and a member of Vanderbilt Law School's most recent graduating class serves a one-year term. Pat Mulloy (Class of 1977) currently serves as the board president until spring 2013.
For more information, visit the Vanderbilt Law School website.